Lighten up dinner time with these easy and delicious mushrooms stuffed with a blend of quinoa, vegetables and topped with crunchy scallions and melted cheese. Ready in 30 minutes!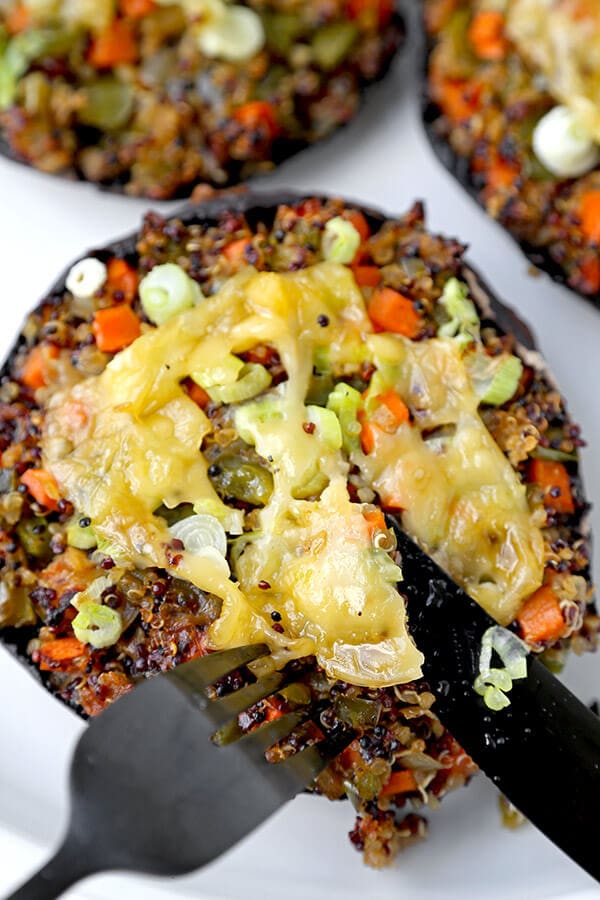 Stuffed Mushrooms with Soy and Sesame Quinoa
I've had a craving for mushrooms lately. Not only do I love the taste of mushrooms but having a meal that's completely meat free also gives me lots of energy. That's the type of meal I like to make in the middle of the week when I start to feel a little sluggish. Between work and accomplishing chores around the house, I'm often left with very little energy by the time evening rolls around. My plans to go for a romantic stroll with Ben fall by the wayside because I'm too exhausted to do anything but watch TV. Next thing you know I feel guilty for not exercising enough and older than I probably should. That's until I discovered that the best way to fight the midweek slump is to go meat free!
You know how they say that vegans naturally have more energy than meat eaters? Well guess what – it's 100% true! Ben and I have greatly lowered our intake of meat this summer and the difference in the level of energy we feel is mind blowing. All of a sudden I want to go for walks after dinner which is a big deal since I never did before. I'll be sitting at the computer working on a post and suddenly find myself wanting to go for a run which again, is not a normal thing. I'm having bursts of energy throughout the day and I'm loving it! Basically, the midweek meat free diet has been so beneficial to our lives by making us more active and happier that we've made it part of our weekly rotation. To be honest, it's now become more of a Monday to Friday thing!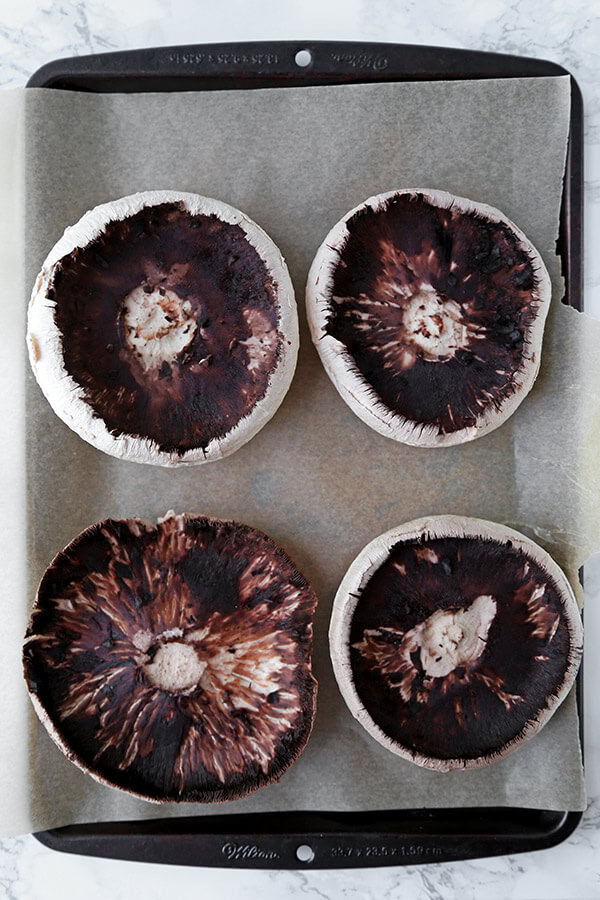 I came up with these simple stuffed mushrooms with soy and sesame quinoa after seeing one too many rosemary and breadcrumb stuffed mushroom recipes. You know me, I get bored of generic, same old recipes. Don't get me wrong, I love making them once in a while but find that I derive more pleasure from eating foods that have a unique touch.
Giving stuffed mushrooms an Asian flair is something I hadn't seen before so I thought "hey, why not try to make some!" I used the classic combination of soy sauce and toasted sesame oil to season the quinoa and mixed vegetables and sprinkled fresh scallions on top. I'm using vegan cheese as a topping because if I'm going to go meat free, I'm going all the way by also omitting dairy and egg products.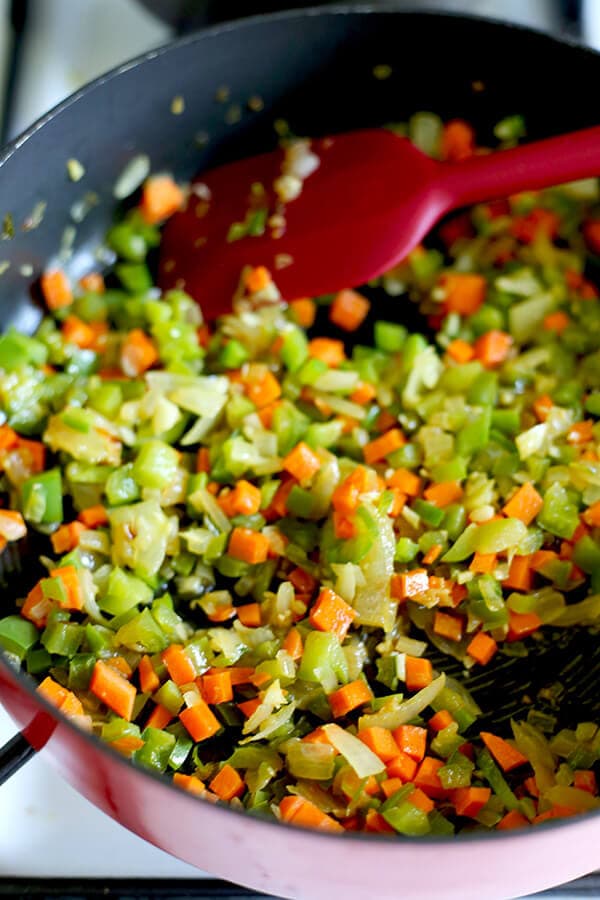 What you get is an umami bomb that's super nutritious and more filling than you would ever expect! I made four stuffed mushrooms to share between Ben and I but could only eat one (we also had sides). Ben ate two and although he didn't feel as stuffed as those mushrooms, the meal was enough to fuel him for the rest of the evening. Oh and the vegan cheese was good, really good! It didn't melt the same way as regular cheese does but the taste was excellent!
Since this way of eating has been so successful in terms of feeling better (we have even lost a couple of pounds without even trying), it's a lifestyle change we have both committed to making. By slowly making the transition from flexitarian to plant based we can feel the changes happening to our bodies and minds (we feel more relaxed). We are learning a new way to cook and eat food and I have to say I'm really excited to see where this journey will take us!
Other yummy plant based recipes: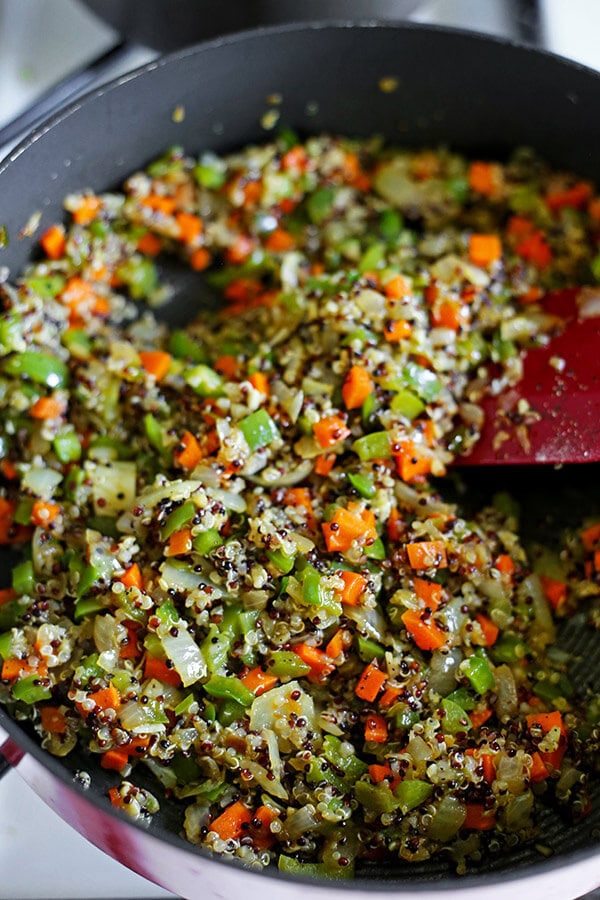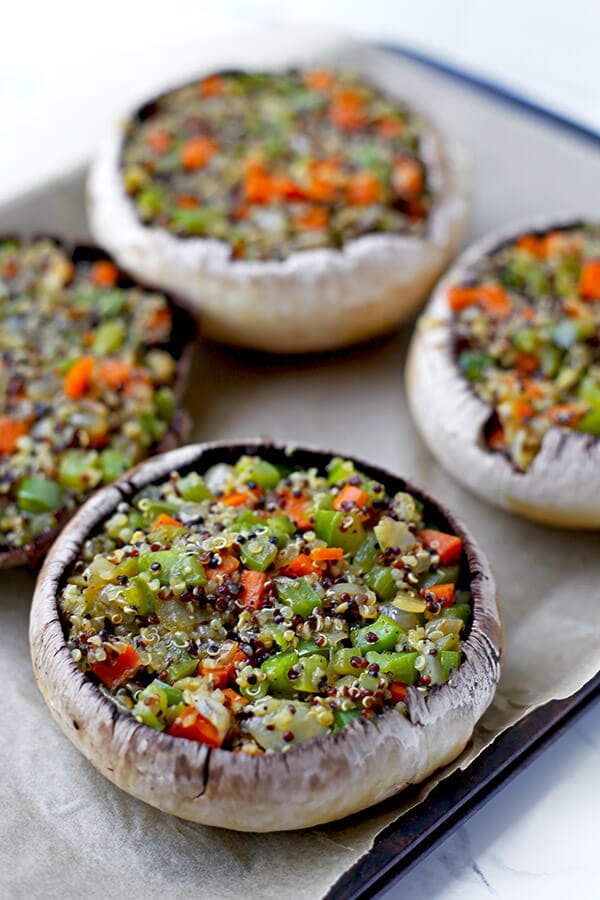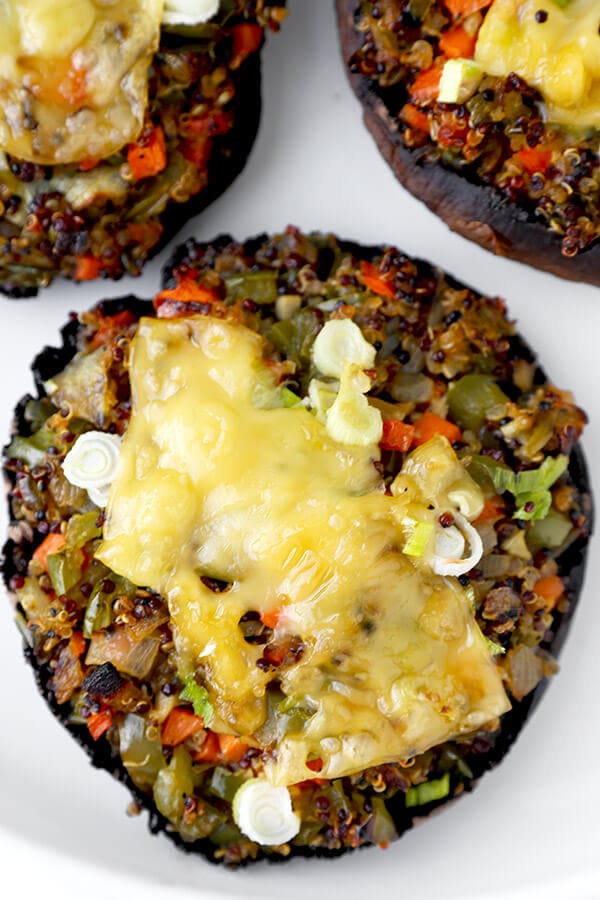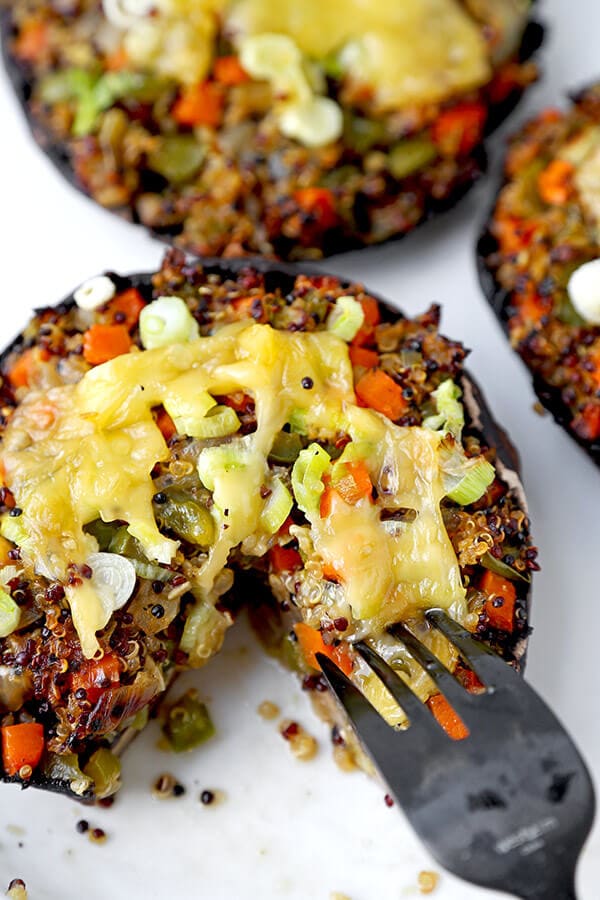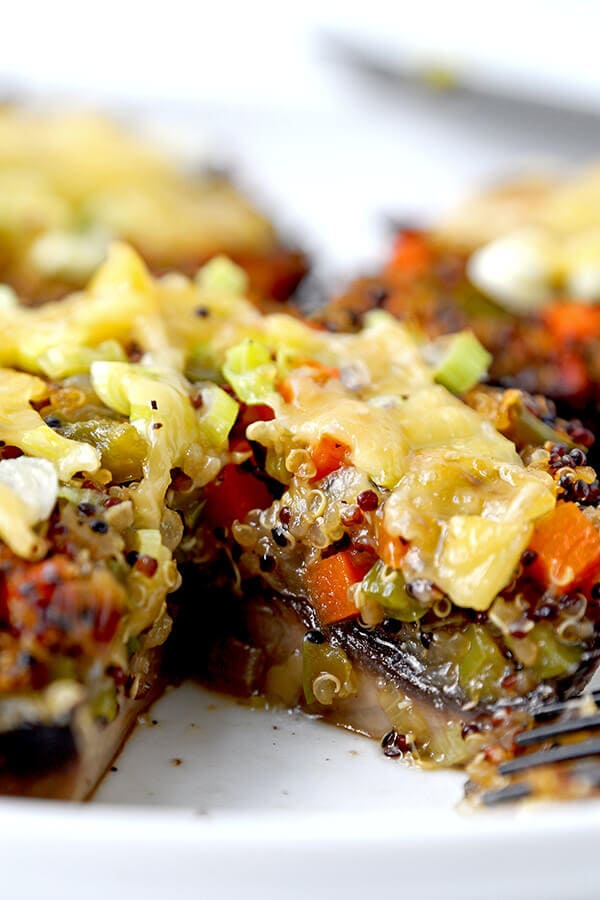 Did you like this Stuffed Mushrooms With Soy And Sesame Quinoa Recipe? Are there changes you made that you would like to share?
Print
Stuffed Mushrooms with Soy and Sesame Quinoa
A super healthy meatless dinner recipe packed with goodness!
Author: Caroline Phelps
Prep Time:

5 minutes

Cook Time:

25 minutes

Total Time:

30 minutes

Yield:

4

stuffed mushrooms

1

x
Category:

Vegan

Method:

Baking

Cuisine:

American
4

large portobello mushrooms

4 tablespoons

extra virgin olive oil

1

clove garlic (peeled and minced)

1

small onion (peeled and finely chopped)

1

medium carrot (finely diced)

1

green or red bell pepper (finely diced)

1 cup

cooked quinoa

2 tablespoons

soy sauce

1 teaspoon

toasted sesame oil

2

scallions (finely chopped)

2

slices vegan cheese (or

1/4 cup

freshly grated parmesan cheese)
Instructions
Preheat oven to 400ºF.
Using a small spoon, gently scoop out the gills of each portobello mushroom.
Line a baking sheet with parchment paper and place the mushrooms facing up. Brush each mushroom with a little olive oil and set aside.
In a large pan over medium high heat, add remaining olive oil, garlic and onions and stir fry for 3 minutes, until onions are translucent.
Add carrots and bell peppers and stir fry for 3 minutes or until vegetables are tender but still yielding a soft crunch. Season with salt and pepper.
Add quinoa, soy sauce and sesame oil and mix well.
Turn the heat off and stuff each mushroom with about 1/4 cup of the mixture.
Bake in the oven for 10 minutes.
Take mushrooms out of the oven and turn the oven on to broil.
Sprinkle scallions on top of each mushroom and top with 2 squares of vegan cheeses, or 1 tablespoon of freshly grated parmesan.
Broil for 4-5 minutes, until cheese has melted and the tops are golden brown. Serve.
Nutrition
Serving Size:

1 stuffed mushroom

Calories:

255

Sugar:

5.5 g

Sodium:

325.4 mg

Fat:

17.8 g

Saturated Fat:

3.2 g

Carbohydrates:

19.7 g

Fiber:

3.9 g

Protein:

7.1 g

Cholesterol:

3.6 mg
Keywords: recipe, vegetarian, meatless, plant based, main
Recipe Card powered by