Written by: Ben Phelps

Ice Cream Sandwiches at Bierkraft
Eating an ice cream sandwich this big and decadent is an act I prefer to do in private. Every time I scour the cavernous freezer at Bierkraft, I do so with a furtive glance around my shoulder just to make sure no one I know might be looking at me. It is the look, I assume, that many trench coat wearing dudes in Times Square were guilty of in the 80s, ducking into doorways of questionable repute, hoping no one from the office saw them.
Wait… don't get me wrong, I love hanging out at Bierkraft – ordering a gargantuan $11 gourmet sandwich with cave aged gruyere, cornichons and Applewood smoked Berkshire ham from guys in Slayer t-shirts listening to the latest Death Grips record. And having the luxury to choose from 14 draught beers on tap, two cask lines and an entire wall of fridges stocked with hundreds of bottled beers is great as well. But there's something about those ice cream sandwiches that sends me running for home, brown paper bag in hand. Lock the door, pull the shades and decide if you're going to share this with the one you love – or if you're going solo.
I've mentioned my general lack of fondness for sweets before (read French Toast at Kiwiana), but these massive, chocolaty desserts manage to represent more than just plain ol' SUGAR – drawing on notes ranging from salted caramel to the funk found in Malta beverage – creating flavor profiles with the depth you might find in a composed dessert at a proper sit down restaurant. The salt-caramel gelato on oatmeal raisin cookies is one of the most rounded flavors I've had on a dessert in the sub $10 range. But my all time favorite is the brownie with peanut butter gelato. The moist and substantive brownie never crumbles once frozen like cookies tend to do – and, for a guy who eats spoonfuls of peanut butter because he can't help himself, the PB gelato nails that buttery, nutty and salty dulcet spot that few things on earth do. While another ice-cream sandwich consisting of vanilla & chocolate chunk gelato, caramel and fluff on a peanut butter cookie had elements that were strong on their own, the overall package was so cloyingly sweet that my teeth could already feel the dentist's drill. But, as they say… Whatever floats your boat.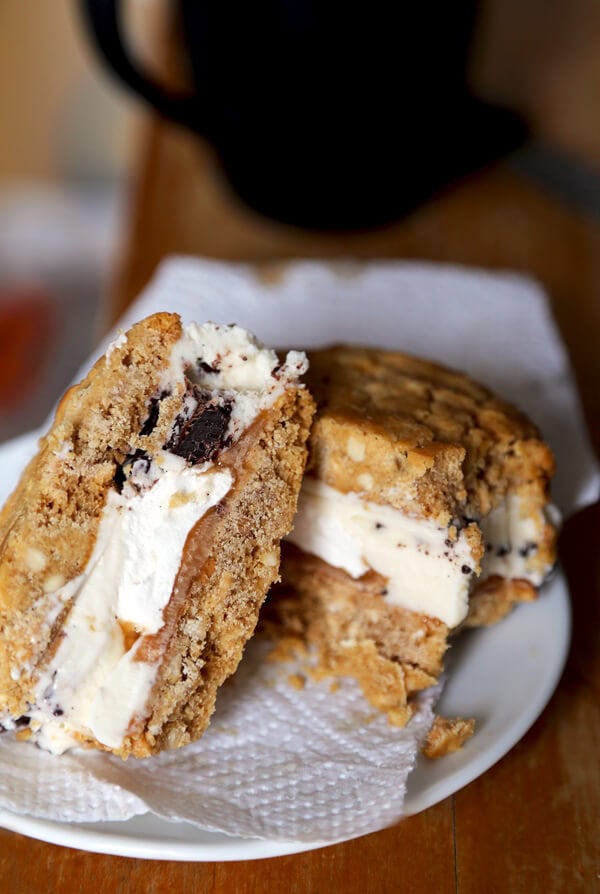 On second thought, while you can eat one of these on your own – it might be best to share. These ice cream sandwiches at Bierkraft are about as big as my first, and probably weigh twice as much. There's plenty of decadent, balanced goodness to go around. Spread the love.
Bierkraft is located at 191 Fifth Avenue in Brooklyn