Tiger Electric Water Heater + Tumbler Giveaway
When the outside temperatures dip, my tea-drinking goes into overdrive. I'm a huge fan of hitting the ice rink and then hunkering down with a pot of of good Japanese Sencha or Chinese Oolong under a warm blanket in front of the TV. And I never knew, until recently, that certain teas actually taste and brew better at specific temperatures. I was definitely a boil-the-water-and-add-the-tea kind of girl. Well, it turns out that delicate teas like shade grown green teas taste much better when brewed at a much lower temperature. Hearty black teas and herbal teas can take the higher temps and actually flourish when brewed at just under boiling. Pretty cool stuff!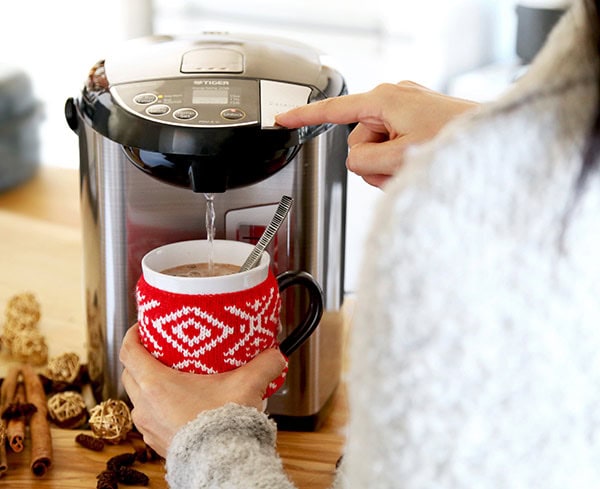 I'm super excited to be teaming up with my friends at Tiger who are offering my readers (hey, that's you!) the chance to win a hot water heater / dispenser that has four temperature presets so you have the perfect temps for your fancy teas and French press coffees – or even for heating up a baby bottle!
One (1) winner will receive one (1) Tiger PDU-A50U Electric Water Heater with a suggested retail value of $190 – along with one (1) Tiger MMZ-A050 17-Ounce Travel Mug with an MSRP of $30. [Total giveaway prize value: $220]
Tiger's PDU series electric water heaters have a large LCD control panel for easy operation – along with 4 different temperature settings. It also has a safety auto-lock system so the water does not accidentally dispense. Other features include an energy saving mode and a safety shut-off in the event of low water in the unit. The power cord can also be removed for safety and convenience. The unit easy to clean, and is spill proof and leak proof. Hot water on demand.
The MMZ-A050-XC travel mug by Tiger will keep your cold drinks cold – and your hot drinks hot – for 6+ hours. Compact and lightweight, this vacuum insulated stainless steel travel mug prevents the retention of odors and stains from drinks – and fits easily into a briefcase or purse. No spills – we like!
Be sure to check the Terms and Conditions for this giveaway in the Rafflecopter widget below.
Please note: Tiger Corporation USA will be shipping the winner these giveaway items directly.
Open to legal residents of USA who are or 18 and older.