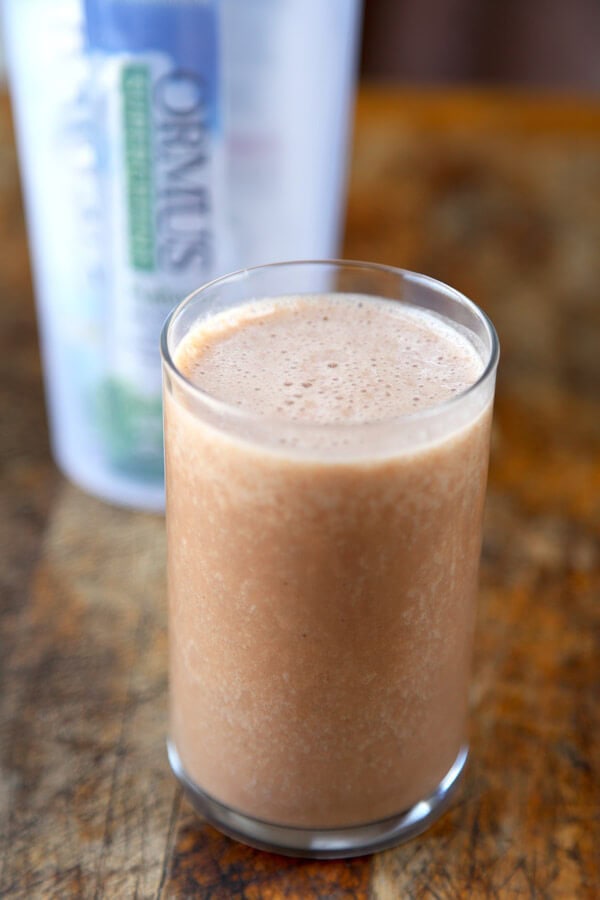 Sunwarrior Chocolate Banana Smoothie (sponsored post)
I have a smoothie every morning for breakfast and pretty much have a panic attack if I miss a day. I lean on my smoothies the way Popeye leans on his cans of spinach. With a smoothie, I get all my nutrients for the day in one big glass of yummy! So when Sunwarrior approached me with their product asking if I would be interested in trying their variety starter pack, I jumped on the opportunity.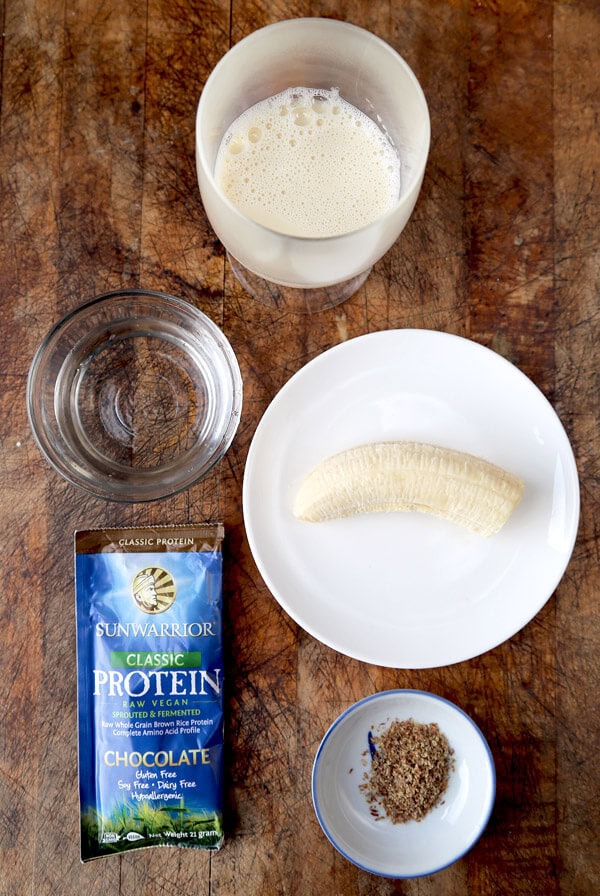 I am a bit of a tree hugger and though I do eat meat, I am more of a flexitarian – a semi-vegetarian who includes meat occasionally but who prefers a plant based diet. Seeing as Sunwarrior products are all raw vegan and eco-friendly, it seemed like the right fit for me. I received a sample kit in the mail a few days later and tasted both vanilla and chocolate protein powders. Both were delicious! I initially thought about making a vanilla and fruit smoothie recipe but since I am a chocolate kinda girl, I had to go with the latter one.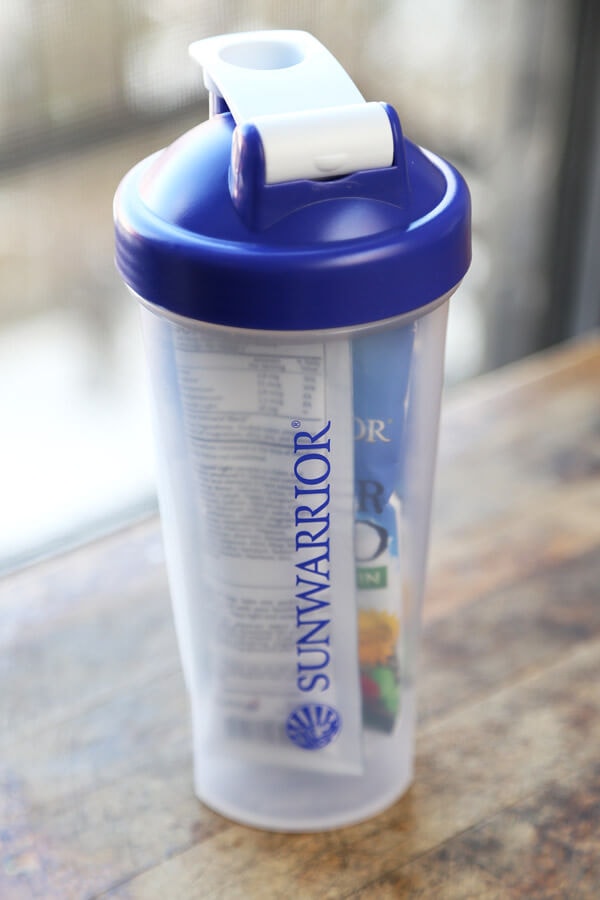 When I think about chocolate, I think about peanut butter and bananas and how perfect they are together. However, I wanted to keep this smoothie as light and healthy as possible, so I replaced the peanut butter with ground flaxseed to retain the nutty flavor. I know there is healthy peanut butter out there but truth be told, I don't like them. I don't like the no salt, unsweetened kind so if I do eat peanut butter, I'm going straight to Skippy. I'm still a kid at heart when it comes to certain foods and this means my peanut butter better have sugar in it. It's not negotiable.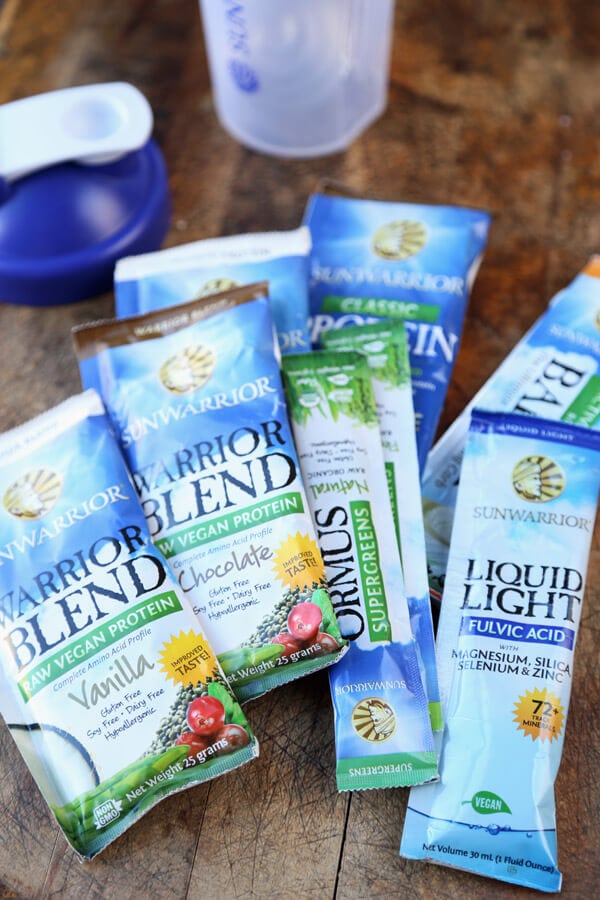 You can use soy milk, almond milk or coconut milk for this recipe, whatever you prefer! The flavor is very clean and satisfying. It's like drinking a glass of milk chocolate that's less sweet, a little nutty and packed with nutrients and vitamins. I haven't gone through the entire Sunwarrior Starter Pack yet but I can tell you that so far I have been pleasantly surprised by the range of products they offer. At first I expected to find protein powders and liquids made for body builders or anyone looking to buff up their physique. But I was completely wrong! Sunwarrior's brand seems to focus more on replenishing the body with essential nutrients so we can stay healthy.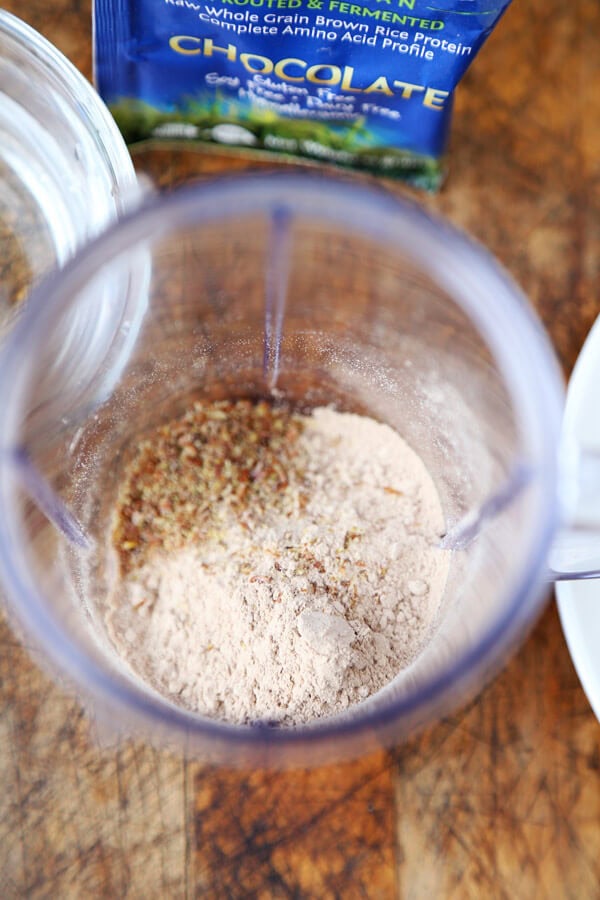 In my kit I found liquids and powders that boost performance and enhance immunity (Barley Powder and Immune Shield), Fulvic acid that contains electrolytes to rehydrate the body and improve absorption of vitamins (Liquid Light), and a probiotic based powder to aid digestion and boost flora production (Ormus Green Peppermint). All great things if you want to keep the winter flu and other ailments away!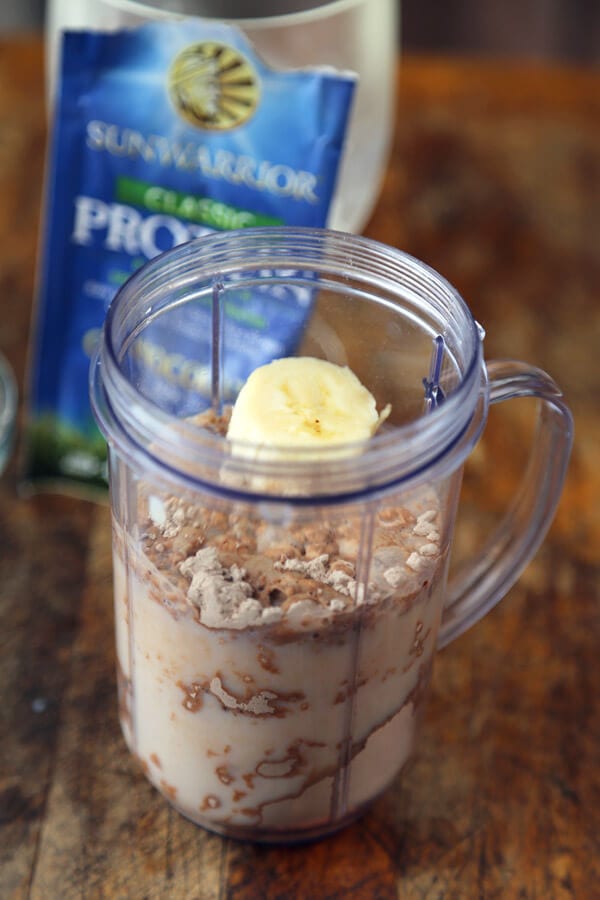 I don't do hard workouts at the gym nor do I have big guns (although I do enjoy a nice six pack!) but I do care about being healthy and providing my body with everything it needs to stay strong. It's nice to see companies like Sunwarrior offering all-in-one packets that can be taken to work. Sometimes our schedules get so busy we don't have time to look for the closest salad bar. The more healthy options we have, the better!
Check out their website and range of products by clicking on the Sunwarrior link.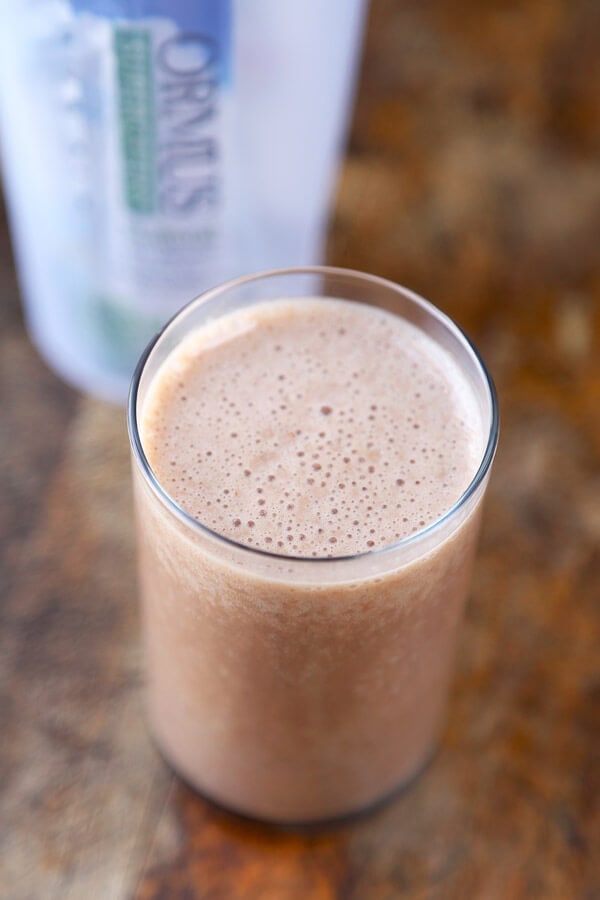 Print
Sunwarrior Chocolate Banana Shake (sponsored post)
Get your morning protein kick by adding a packet of Sunwarrior chocolate flavor protein powder to your favorite shake. Try this yummy and easy chocolate banana shake recipe and make it your morning ritual.
Prep Time:

1 minutes

Total Time:

1 minutes

Yield:

1

1

x
Category:

Drinks

Cuisine:

healthy
1/2

banana

1/2 cup

soy milk (or almond milk)

1/2 cup

to 3/4cold water

1 teaspoon

ground flaxseed

1

packet Sunwarrior Chocolate Protein Powder
Instructions
Put everything in a blender and blend until smooth.
Recipe Card powered by