September 2016 Blogging Income Report
*This post may contain affiliate links. Read my disclaimer here.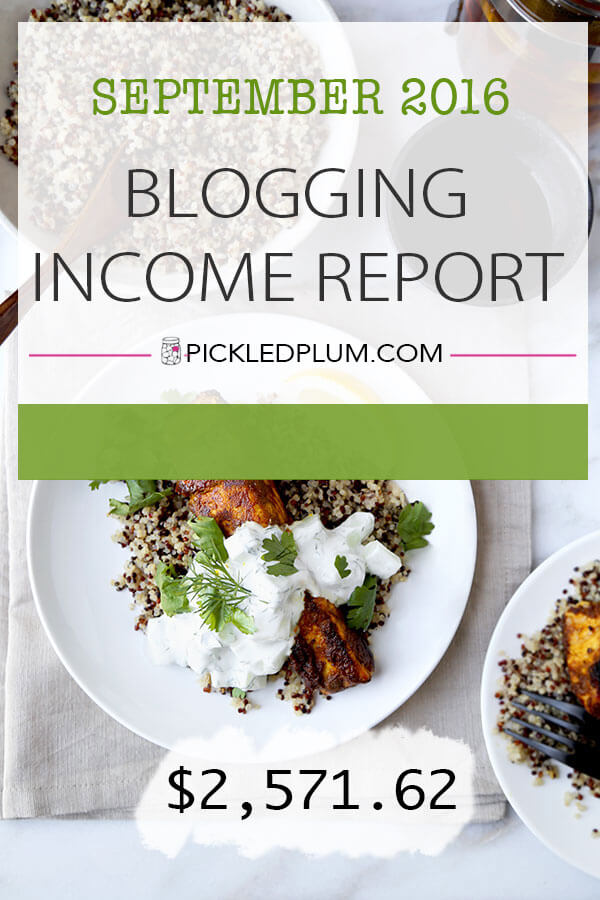 Hi and welcome to this month's income report!
I started Pickled Plum five years ago as a way to collect and share recipes I created on a whim. This blogging thing wasn't something I envisioned doing long term: I was studying at FIT to become an image consultant and worked full time in retail. During that year I only managed to post one or two recipes per month. My schedule was packed and to be honest, I was taken aback by the amount of time and energy it took to shoot, edit and publish a recipe.
The second year was even worse: I barely gave the blog any attention, leaving it bare and neglected. I was struggling at my job and slowly realizing that fashion may not be my calling. The third year is when I decided to take this blogging thing a little more seriously. I saw that people were making money, thanks to blogs like Pinch Of Yum (who is responsible for making income reports so popular) and that gave me the motivation to focus my energy on taking better pictures, creating unique content and reading about SEO. Thanks to a very supportive husband, I was able to quit school and my full time job in retail to fully focus on my blog. What can I say – I fell deeply, madly in love with food blogging!
Since then, Pickled Plum and myself have grown tremendously. I've published over 550 recipes and finally feel confident that I can earn a comfortable living from it.
Why I am sharing this with you
The reason why I decided to publish monthly income reports is to show you that making money online can be done. Some blogs find success right out of the gate while others take longer to develop and find their voice. Mine was in the latter category. It took patience, perseverance and lots of coffee to get here. It wasn't an easy climb but it was worth every drop of sweat! Whether you already are a blogger or are thinking of getting started, I hope I can help you navigate through all the steps and hurdles of blogging a little more easily. And just like the bigger blogs that were there to motivate me when I needed a lift (just looking at their earnings was inspiring enough!), I hope I can do the same for you!
---
BLOG INCOME REPORT FOR SEPTEMBER 2016
*Please note some of the links below are affiliate links. 
Income: $2,571.62
Expenses: $188.70
SEPTEMBER 2016 NET PROFIT: $2,382.92
---
TRAFFIC RECAP
September was surprisingly slow! We expected our numbers to go up but instead, they dipped lower than they had in a long time. Did this make us nervous? Yes! I'm not going to lie to you, every time I see our traffic go below 200,000 unique views, I get uncomfortable. But here's the thing; it's okay to be worried because it means you care about your blog and its success. The key is to be able to move past the worries and look ahead. Being a blogger means having to accept living with lots of ups and downs. Therefore, the more prepared for it you are on a mental level, the better you'll handle any situation that comes your way.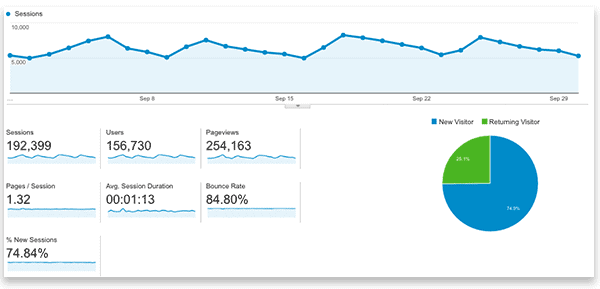 TOP TEN TRAFFIC SOURCES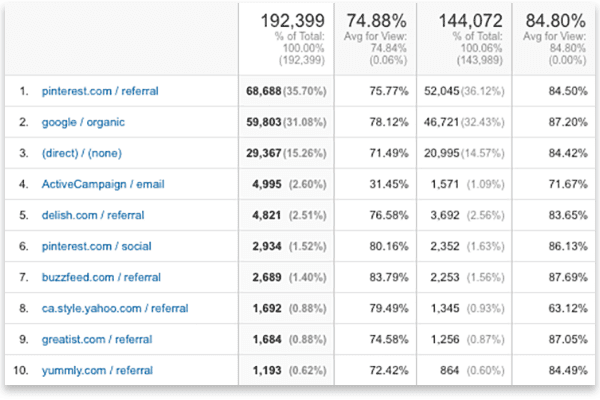 ---
Sponsored Posts
You may have noticed that we had no sponsored posts for September which is why our earnings were considerably down from the previous months. The reason is we had a very busy September working outside of the blog. I was gone for five days due to a modeling job that shot outside of New York followed by a trip to Des Moines with Ben. Half of September was spent traveling which left little time for anything else. Although we consider the blog a full time job, we also consider our other careers (modeling and voice over) as full time jobs too.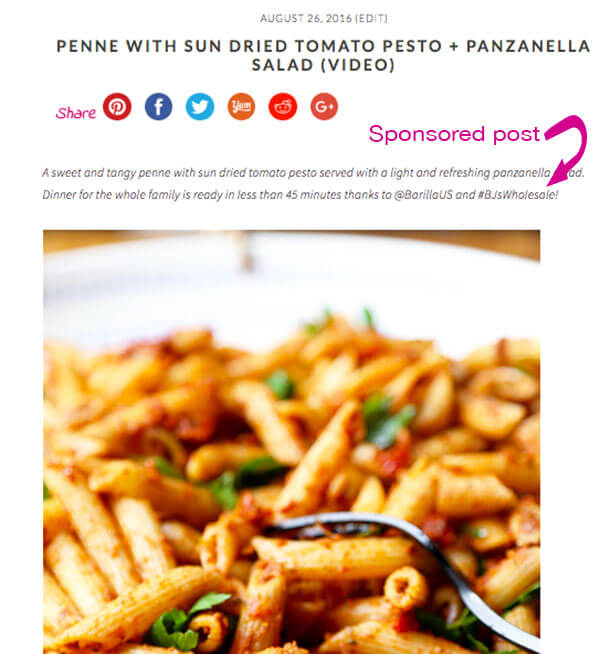 We try to back up the blog by about a month's worth of recipes (shot, edited and written) in case we suddenly get bombarded with auditions and bookings. Just to give you an idea, I had 14 auditions, a five day shoot in New Hampshire and an editorial for Woman's Day magazine last month, while Ben had 21 auditions and three recordings. That's a lot of time away from home! Getting to and from an audition takes roughly two hours plus having to get ready for it, which adds another hour to do hair and makeup. I lose about three hours of my day every time I have one audition. Having a tight and concise blogging schedule is essential to the blog's success.
The sponsored posts come along later. They get added once we get approved by the companies and worked into the calendar. Unfortunately for September, though I had time to apply for campaigns, the reason I didn't was because I knew I wouldn't have time to create the recipes and posts afterward. Plus, the types of campaigns available didn't really fit with the style of posts I write for Pickled Plum. You can read more about sponsored posts and the marketing agencies you can join here. That's when I realized I should take matters into my own hands – what if, instead of waiting and hoping to get accepted to a program, I try and reach out to companies directly? Would this work?
Technically, it would make my life a whole lot easier. I could schedule sponsored posts weeks ahead of time and create more stable earnings for the blog. Finding the right people to email won't be easy but I think it's worth the effort. I have so far contacted 15 companies and am waiting to hear back from them. Having a media kit is very important if you are also planning to go down that route. Here is a great post written by The Blog Maven on how to create your own media kit.
I will keep you posted on the progress but in the meantime, I would love to hear about your own experiences! How do you go about applying/finding sponsored posts? What works best for you when searching for ways to generate more income for your blog?
---

ShareASale & Rakuten – More ways to earn money
If you are racking your brains trying to figure out more ways to make money (and don't we all do that), now is the time to sign up with both ShareASale and Rakuten. Anyone can sign up with these two affiliates, there is no minimum amount traffic required in order to join. And the best part about them? Once you are inside, you can apply for as many programs as you want!
They are both affiliate networks containing thousands of merchants. What this means is once you have signed up, you have access to online retail merchants such as Dean & Deluca, Dylan's Candy Bar, Starbucks, Kate Spade, Guess, Fresh Direct, Zulily, Wayfair – and the list goes on and on. The next step is to apply for products you want to recommend/sell on your blog and wait for approval. Once you are approved, you can either grab a banner code or simply link to the products by using hyperlinks. Easy!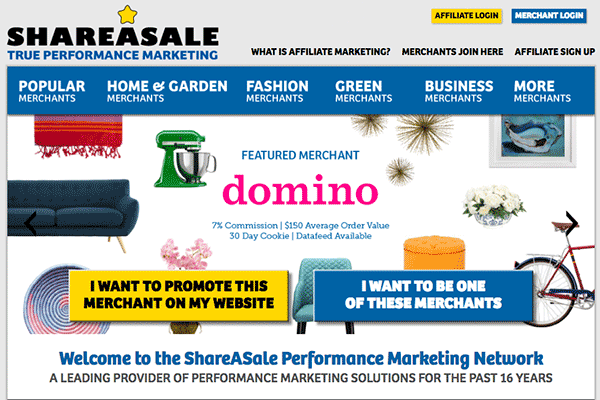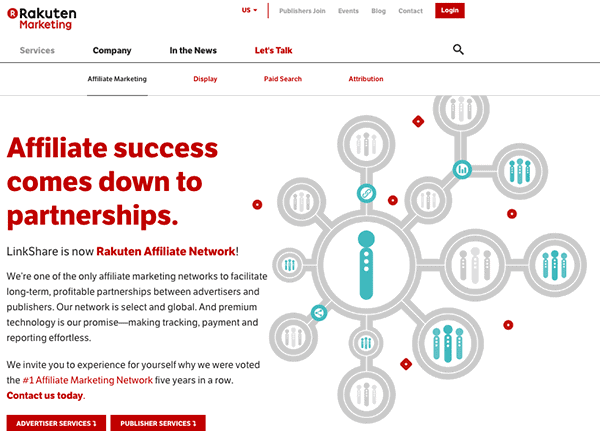 How much money can I make?
That's 100% up to you! Some bloggers are finding incredible success with these affiliates. I've seen bloggers earning up to $10,000 per month by only using ShareASale! It's all about knowing how to sell without being too pushy and selling things that correspond with what your blog is about – and make sure you sell products you truly love and believe in! There is nothing more enticing and exciting than a genuine, positive reaction or recommendation.
Working with affiliates is all about trial and error. Some merchants will do better than others and it's by testing, switching and tweaking them that success will eventually ensue. Remember that there is room for all of us to shine – my recipe for success may just be slightly different than yours!
Food Blogger Pro Is Briefly Accepting New Members!
This is great amazing news for you!
If you are new or intermediate to food blogging and would like to learn or know about how to start, grow and monetize your food blog, Food Blogger Pro is the ONLY place online that offers this type of service. It's a one stop shop with over 300 video tutorials! Learn how to take great pictures, generate income from ebooks, how to increase traffic, become a Pinterest expert, how to use basic Photoshop tools, set up giveaways, use WordPress, create videos, etc… Plus, the database gets updated on a regular basis which means there are continuously adding more videos and lessons on blogging and tutorials on using new tools and programs.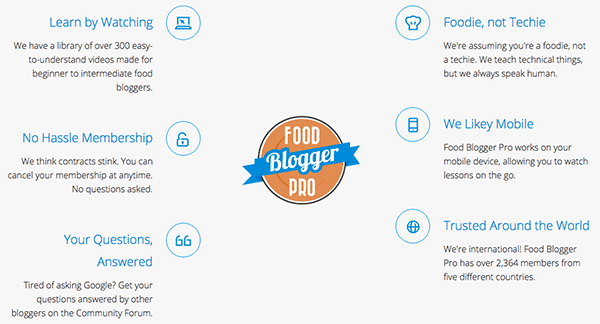 I have been an active member of the Food Blogger Pro community for the past 8 months and have made some incredible connections. What's been wonderful is being able to have access to a forum that's 100% food blogger based! Every question I've had – whether it's been about a particular affiliate program, questions about how to do my taxes, which hosting company is the best – all of them were answered swiftly and with great attention. This alone has saved me hours of browsing the internet to find the right answers to my questions.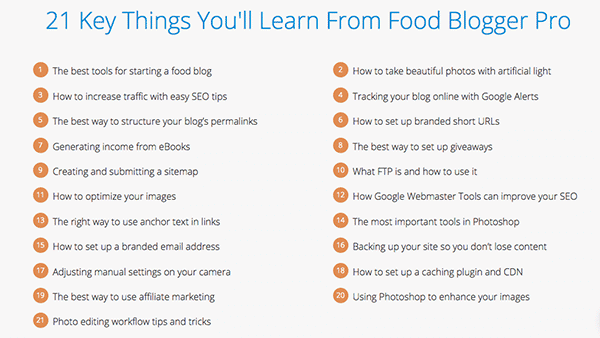 Food Blogger Pro will only be accepting new members from November 1st until the 10th. The good news is you can be put on the waiting list today by signing up here. This will guarantee you a spot into the Food Blogger Pro community!

And that's it for September!
If you have any questions or tips to share, please leave them in the comments section. I'd love to hear from you!
---
Pickled Plum is a participant in the Amazon Services LLC Associates Program, an affiliate advertising program designed to provide a means for sites to earn advertising fees by advertising and linking to amazon.com.