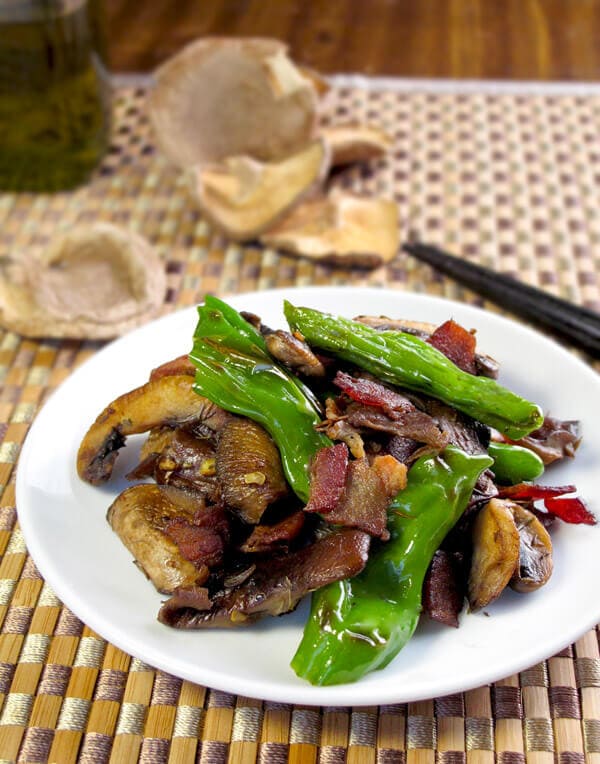 Sauteed Shishito Peppers with Mushrooms
I came up with this Japanese inspired recipe while experimenting with mushroom water after a recent obsession I had with dried shiitake mushrooms. I'd read several articles about how mushroom 'essence' yielded spectacular results in risottos and soups, and how one must NEVER throw away this dark golden liquid, but rather find a use for it.
Looking through my fridge I found bacon and shishito peppers (small Japanese green peppers that are a mix of sweet and hot) and thought 'hey, this would probably taste great cooked together with some fresh and dried mushrooms.' I walked to the stove and threw a large pan on one of the burners and started sauteeing: A little thyme and some olive oil to extend the flavors and crisp up the bacon, mushrooms cooked on high for a nice caramelized look, and lastly the shishito peppers for heat and color. Then I added the mushroom water I got from soaking dried shiitake mushrooms.. and pow! Earthy, spicy and smoky goodness! By adding just a small amount of mushroom water, it propelled the dish into a much more concentrated and savory concoction. What looked like a regular plate of sauteed mushrooms and peppers hid spectacular depth of flavor. Ben and I ate it all in less than 5 minutes, fork fighting over the last bite – though I know he let me win this duel
I served this sauteed shishito peppers dish as a side to soy ginger pork chops, though you can easily turn this into a main such as a stir fry (with a dash of soy for extra flavor) or served with a nice, juicy steak.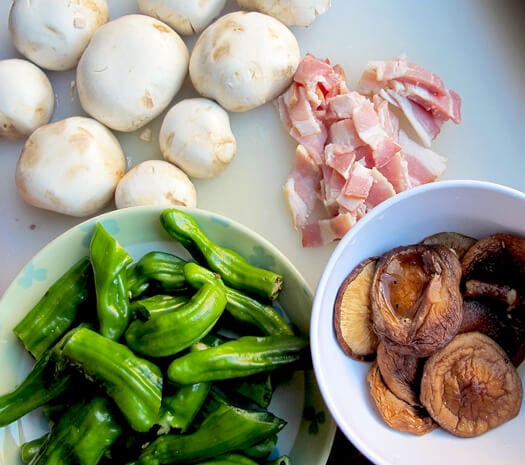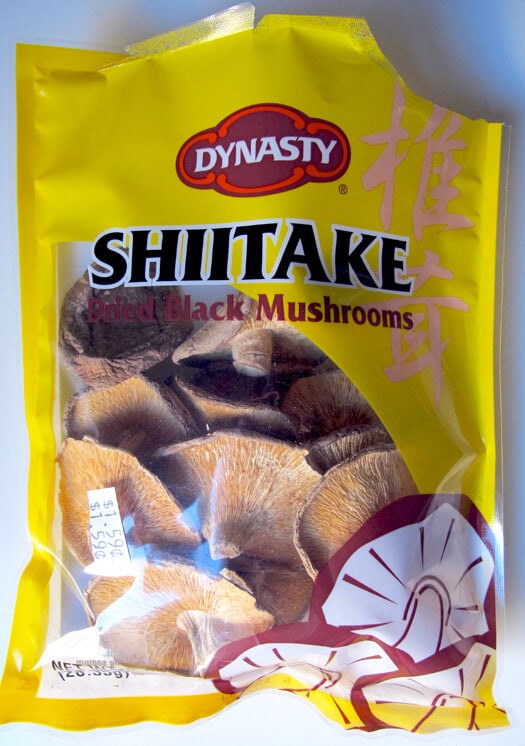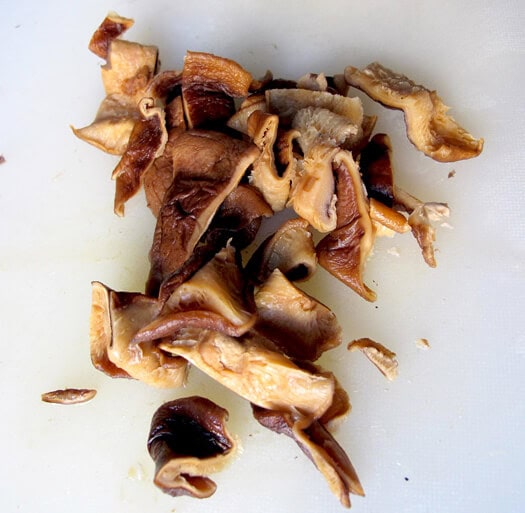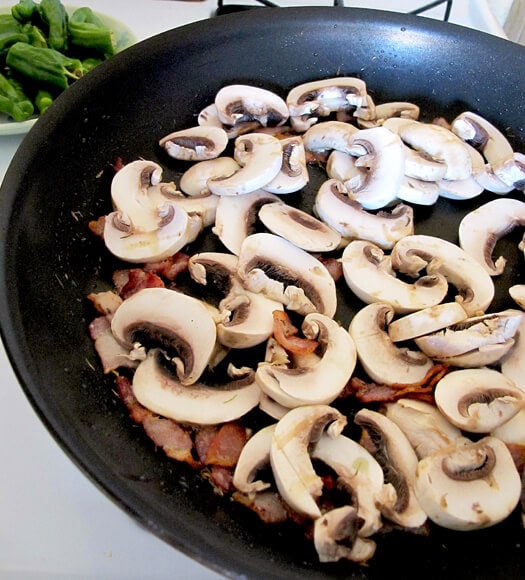 Print
Sauteed shishito peppers and mushrooms
Prep Time:

7 minutes

Cook Time:

10 minutes

Total Time:

17 minutes

Yield:

2

1

x
Category:

Side

Cuisine:

Japanese
8

dried shiitake mushrooms

1/4 cup

of water

10

button mushrooms (chopped)

10

shishito peppers (sliced in half)

1/2 teaspoon

dried thyme

1/2 teaspoon

garlic salt

2 tablespoons

extra virgin olive oil

3

slices bacon (chopped bite size)
salt and pepper to taste
Instructions
Soak the dried shiitake mushroom in a bowl with 1/4 cup of water for about 10 minutes. When the mushrooms are soft, squeeze out excess liquid back into the bowl. Do NOT throw away! You should have about 1 1/2 tbsp of mushroom water left. Set aside. Remove shiitake mushroom stems, roughly chop and set aside.
In a pan over medium high heat, add bacon and cook for 2 minutes, until cooked but not crunchy. Add thyme and olive oil and cook for a minute. Turn the heat up to high and add button mushrooms. Cook for about 3-4 minutes, until mushrooms are golden brown. Add shiitake mushrooms and shishito peppers and cook for 3-4 minutes, until mushrooms are caramelized and shishito peppers slightly charred. Turn off the heat and add garlic salt. Stir well and season to taste with salt and pepper. Serve immediately.
Nutrition
Calories:

396

Sugar:

26

Sodium:

989

Fat:

21

Saturated Fat:

4

Carbohydrates:

41

Fiber:

14

Protein:

14

Cholesterol:

13
Recipe Card powered by