Written by: Ben Phelps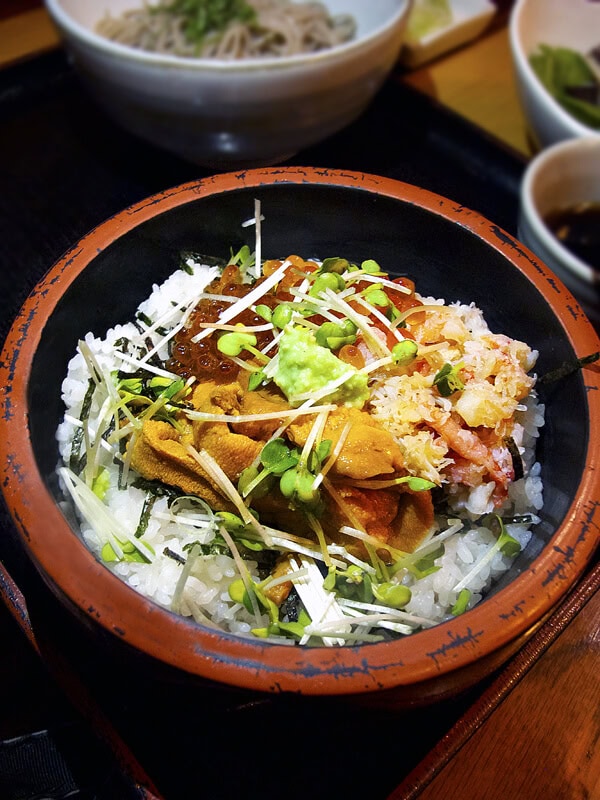 Sanshoku Don at Soba Totto
9am: Wake up. Cold sweat. I had the dream again. It is like the one where you're trying to dial a telephone number but your fingers betray you and you keep hitting all the wrong numbers… Except this dream involves a bowl of pristine white rice – devoid of sea urchin. I know, gasp right? I throw the covers back and open the blinds. Shower and a gallon of coffee. Slightly better, but that feeling of dread creeps back from my dream, inching closer as lunchtime nears. Will they have it? I better go early, I tell myself.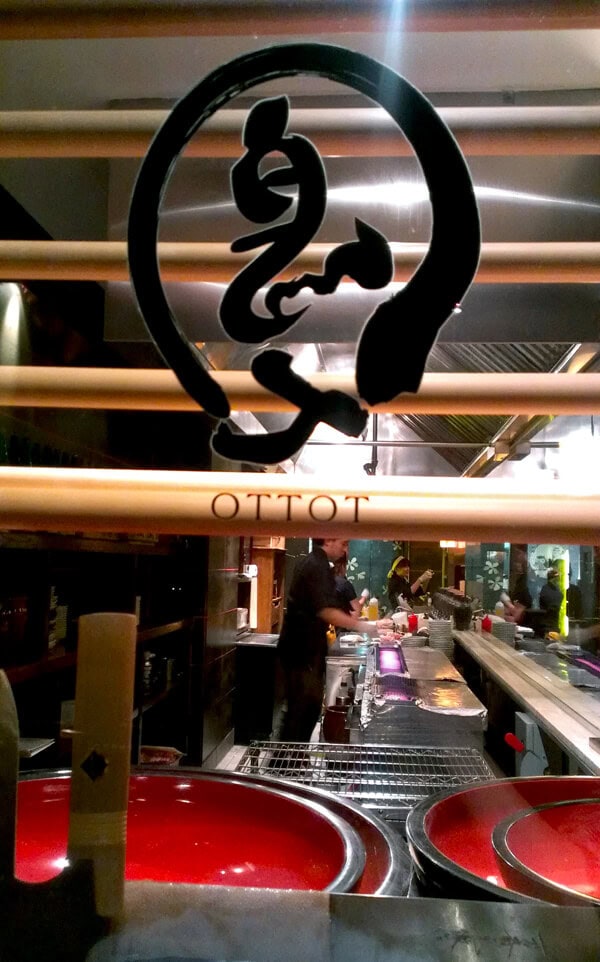 Not many things have me as utterly cracked out as the prospect that the limited edition Sanshoku Don at Soba Totto will be sold out by the time I arrive. And if you've tried it, you know the crushing despair when you find out they've already served the last one. A rice bowl topped with creamy and robust uni (the afore mentioned sea urchin), plump and saline ikura (salmon roe) that pops satisfyingly when it bursts, sweet crab (the real deal) and microgreens for a dash of color and texture is not something I am capable of taking lightly.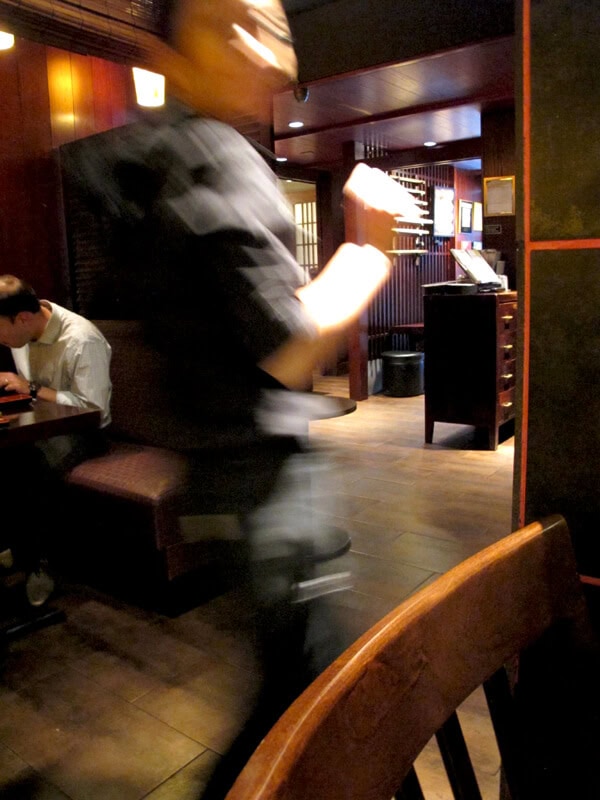 Most of the set-lunches at Soba Totto come with your choice of hot or cold soba. I always opt for the cold. All the better to savor the toothy and unyielding buckwheat noodles. Aside from being great for you, the firm texture of the noodles drives me wild. A small ramekin of pickled eggplant on the side – and I'm eating with the reckless abandon of Edward Scissorhands, careening from dish to dish.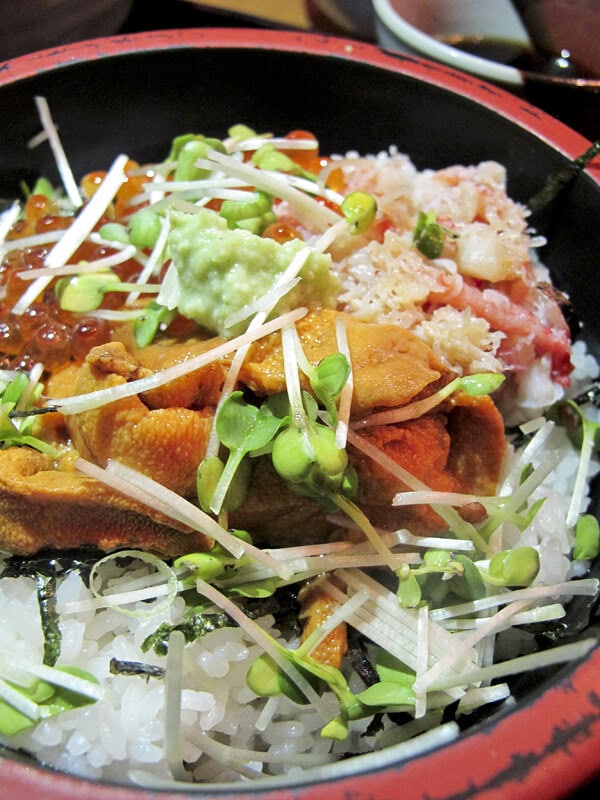 Luckily the portions at Soba Totto are totally reasonable so there's no need to apply the hara hachi bu rule – an Okinawan saying which means eat until you're 80% full. The premise is that you stop eating before you feel full, so your stomach doesn't expand with each meal you eat, looking for more and more food each time before you feel satiated. Want proof that it works? Japan has more octogenarians with slim waistlines per capita than anywhere else in the world. But – yeah, let me beat you to the punch: It's a tough rule to apply when eating pizza at Franny's or Caroline's brilliant boeuf bourguignon.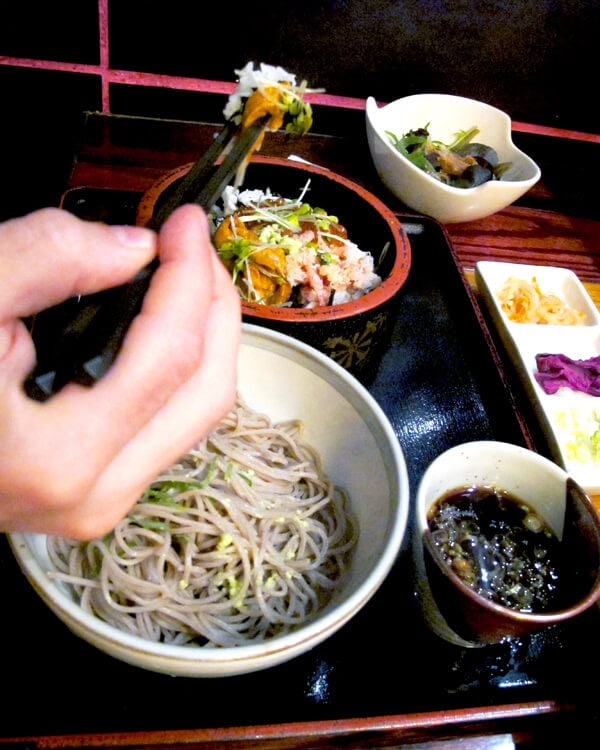 Soba Totto's chill setting, replete with long dining counter means you can geek out and watch yakitori skewers being prepared, while enjoying a long, lazy lunch. There is a method to the madness when eating a dish as luxurious as Sanshoku Don – trying to assemble the perfect bite (one that contains just the right amounts of all the dish's elements), that has transformed me into a bit of a mad scientist. I love my tasty research, but my work is never done. So I triple set my alarm, arrive early and continue my search for the perfect bite.
Soba Totto is located at 211 East 43rd Street New York, NY