Written by: Ben Phelps
Clam Pizza at Franny's
Tuesday – 6:15pm. Slammed. The sun still sits high enough in the sky to call it afternoon, but the dinner rush at Franny's is in full effect. The bar is three deep for cocktails and the hostess chews on her pencil eraser, no doubt doing the algebra all maître d's at successful restaurants do when trying to juggle the influx of hungry patrons while managing their expectations, and says, "45 minutes?" Some restaurants have the touch – the ability to pack them in no matter what time of day it is. I want that damn pizza. But I turn into a spastic eight-year-old when my blood sugar gets low. Caroline looks at me and says, "Is someone getting hangry?" Coming back tomorrow for lunch seems to be the right call. Luckily we live close by. We hit up the fine folks at Pork Slope for a bite and a beer instead.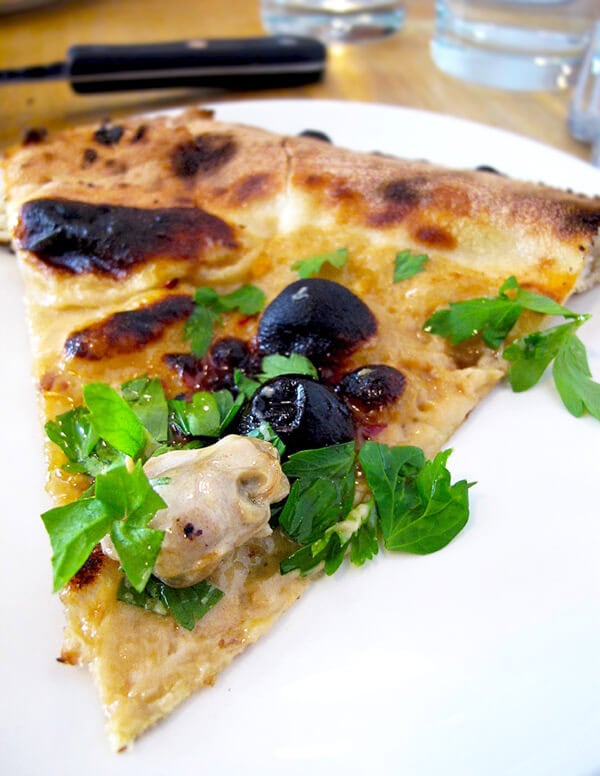 The next day at Franny's turns out to be an entirely different animal. Lunch is the way to roll if you like lazy conversation and room to breathe while you eat. But any time is the right time for a pizza this good. The entire key to this otherworldly pizza is the clams. They are steamed open and pulled from the shell and set aside. Then, the salty clam broth is reduced and crème is added. The mixture is slathered on the crust instead of the more traditional cheese/sauce combo.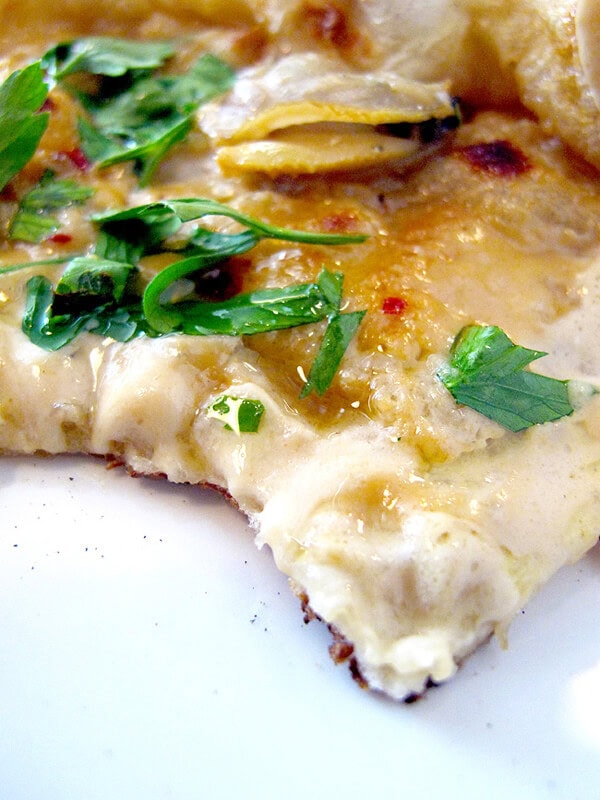 Believe me when I tell you this creamy mixture is so thick, potent and punchy that it may as well be gorgonzola-from-the-sea. There is an umami and tanginess from the sauce and clams, a spiciness from the chili flakes and a hit of clean herbs from the flat leaf parsley they toss on before your pizza hits the table. The slightly charred crust is a true food enigma. It manages to be cracker thin in the middle and then puffs out to a formidable, bready and substantive beast at the edges – nailing crispy, light, chewy and dense all at once. It is a true feat (and obvious contradiction) in texture.
We round out our leisurely lunch with a dainty bowl of perfectly cooked mafalde with pesto Trapanese. Mafalde is a long, flat eel-like pasta that looks like ribbons have been etched into the edges. The pesto isn't your usual drudgery of pine nuts and pulverized basil. Oh no… Pesto Trapanese (heralding from the Sicilian village of Trapani) calls for crushed almonds and a basil tomato sauce, made wholeheartedly amazing by a last minute snow shower of pecorino.
I want to order a second clam pizza and gorge like a fat Roman senator presiding over an ancient Bacchanalian food orgy. But I decide to save some room for Caroline's amazing Japanese influenced spaghetti vongole she will be making for dinner tonight, and ask for the check instead.
Franny's is located at 348 Flatbush Avenue, Brooklyn NY