The day has finally arrived and I am so excited to introduce you to my very own Pickled Plum App! The app is now available at the Apple Store and Google Play for both iOS and Android devices. Scroll down to see all the features it offers!
The app is finally here!
After months of working with the tech-savvy team at Sidechef, I'm really happy and so proud to bring you this beautiful recipe app!
The app comes with many cool functions to make the process of following a recipe, easier.
Some of my favorite features:
Step-by-step voice guidance from yours truly along with colorful step-by-step images.
Built-in timers to help you keep track of your cooking progress.
Adjustable serving size for each recipe so you can cook the right amount of food every time.

SO MANY FILTERS TO CHOOSE FROM!
The app's many filters make it easy to find exactly what type of recipe you are looking for. Find recipes by cuisines, special diets, popular ingredients and types to simply your searches.
Do you want something Chinese but also vegetarian?
Under Categories:
Click on the Cuisines filter -> Chinese and then go back to Categories and choose Vegetarian under the Diet filter.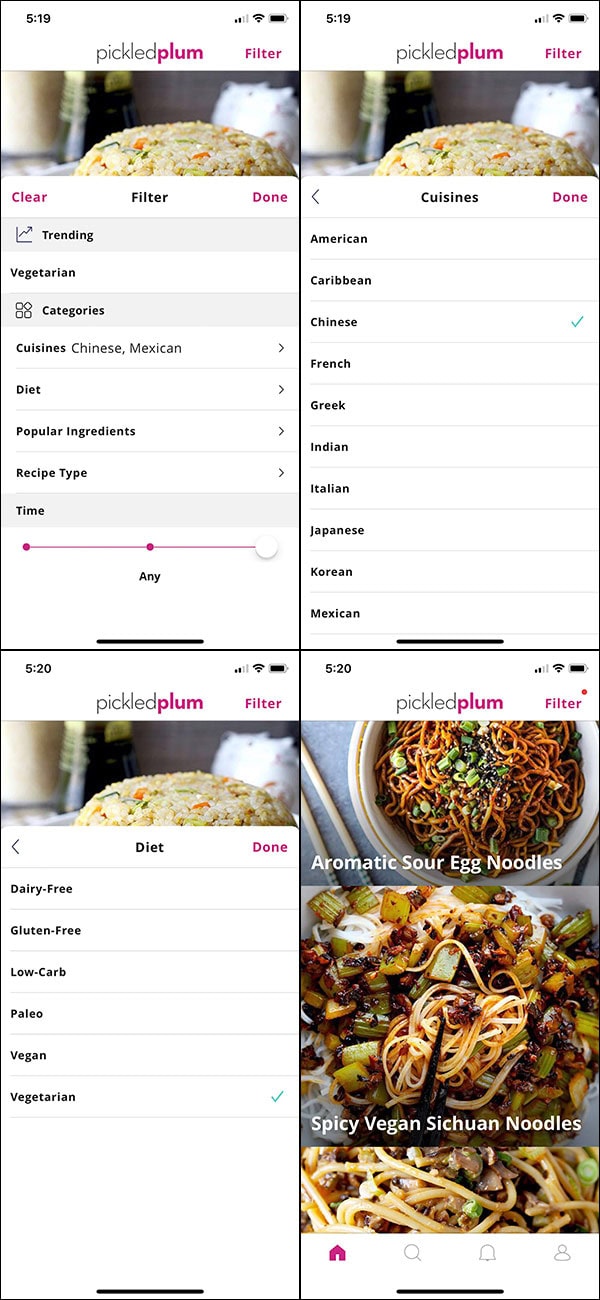 There you go, you can now pick your favorite Chinese vegetarian recipe from the menu! And if you are having trouble with a cooking technique, How-To videos are available in the instructions.
Other amazing features:
You can email yourself ingredients lists straight from the app so you can do your groceries with confidence later.
Save your favorite recipes in the "Cookbooks" section.
For people outside of the US, you can switch to metrics measurements easily.
You can take a photo of your finished dish and add it to your file for future reference.
Add tags like Cheap & Tasty, Lean & Green and Impress Your Guests for future reference.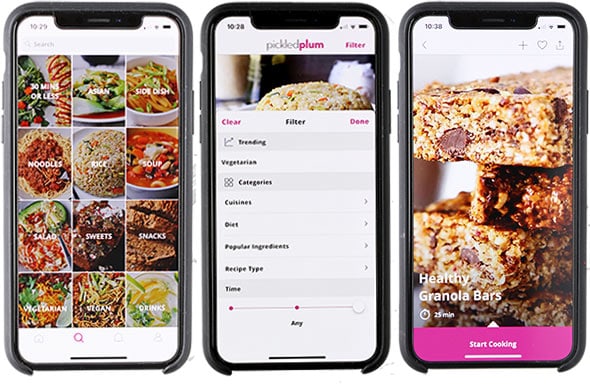 As of now you can access 100 of Pickled Plum's most popular recipes and this is just the beginning!
New recipes and features will be added regularly as time goes on.
I hope this app can inspire you to eat healthier and be more adventurous in the kitchen. Surrounding yourself with new flavors and cuisines makes cooking fun not just for you, but for your entire family!
Download the official Pickled Plum app at the App Store or Google Play today!

caroline