A sweet and tangy penne with sun dried tomato pesto served with a light and refreshing panzanella salad. Dinner for the whole family is ready in less than 45 minutes thanks to @BarillaUS and #BJsWholesale!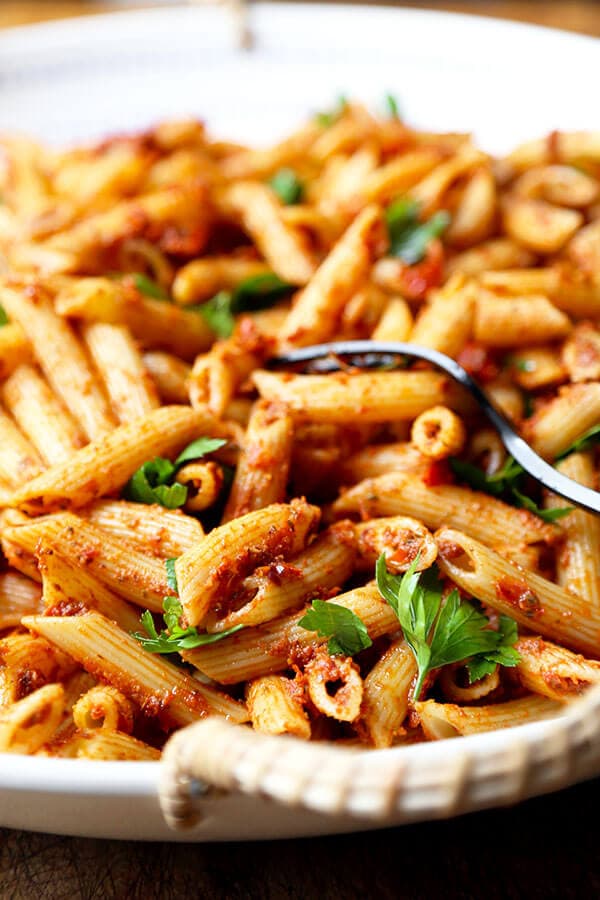 There are so many ways to celebrate the summer: outdoor barbecues, rooftop cocktails with friends, picnics at the park (or the beach if you are lucky to be living near one) and late night dinners out on the patio. Summer cooking also means quick and easy meals followed by evening strolls and quality time at the ice cream parlor. Making an easy pasta like this penne with sun dried tomato pesto only takes 17 minutes and 6 ingredients. Serve it with a refreshing panzanella salad full of crunchy croutons and vegetables and you have yourself a colorful, nutritious dinner your whole family will love!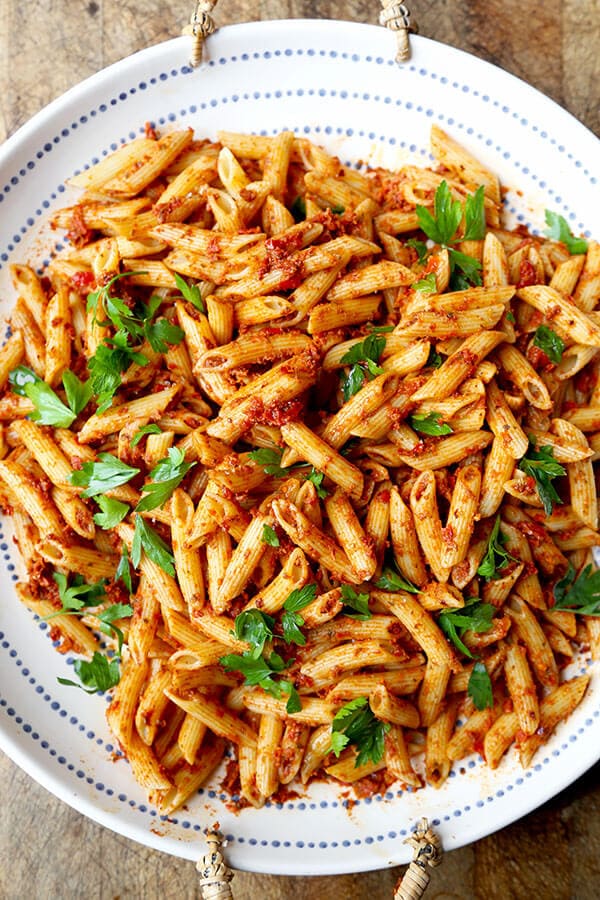 For these two recipes, I went to BJ's Wholesale and purchased #BarillaOrganic Penne Pasta along with #BarillaPesto Sauce. The organic pasta comes in packs of six (a mix of penne and spaghetti) and is certified USDA organic. Barilla's Pesto Sauce comes in packs of two and is made with high quality ingredients like sweet basil, aromatic herbs and extra virgin oil. I'm using the pesto in both the penne and salad since it pairs well with either hot or cold dishes. Plus, there is nothing better and easier to use than pesto to impart lots of flavors into a dish!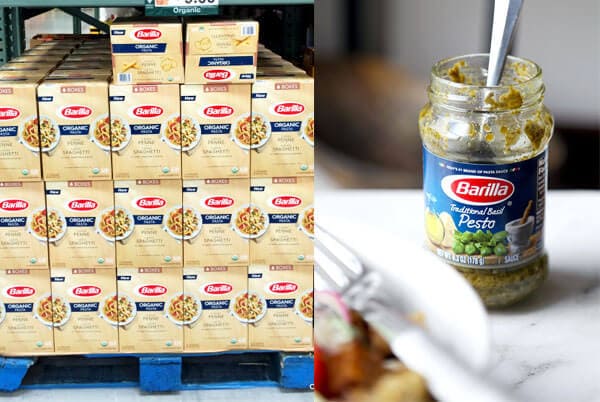 For the panzanella salad, I used leftover whole grain bread that I cut into bite size cubes and tossed with a little Barilla Pesto Sauce. I put them in the oven for about 12 minutes and that was it – beautiful golden brown croutons that taste way better than store bought! I added those to a bowl full of chopped cucumbers, tomatoes, red onions and torn pieces of fresh mozzarella cheese. The whole thing is dressed with a light red wine vinegar and lemon juice vinaigrette and served cold. So good!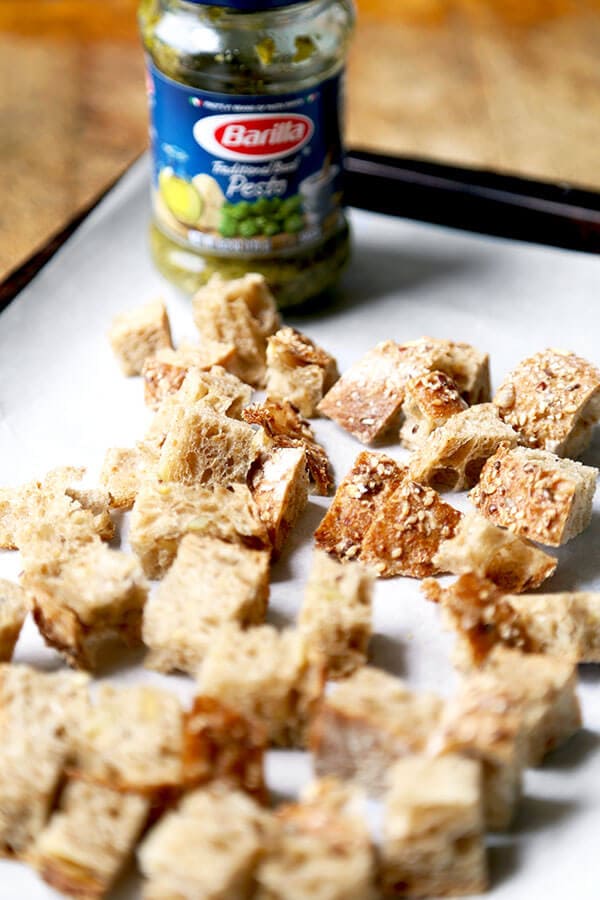 Making the penne was even easier: sun dried tomatoes, Barilla Pesto Sauce, kalamata olives and grated parmesan cheese were added to a blender, blended until smooth and tossed together with the Barilla Penne Pasta. Drizzle a little extra virgin olive oil on top, season with salt and pepper and the dish is ready to be served! The flavors of both dishes complement each other; tangy, sweet and savory with nutty garlic bites and fragrant basil. It's the easiest Italian meal you will be making this summer!
The penne and panzanella salad taste best when served immediately but you can make these ahead of time as well. Keep the croutons, mozarella and vinaigrette separate from the vegetables and toss together right before serving. The penne can be re-heated but it may need some moisture. I recommend tossing half of the sun dried tomato pesto with penne and saving the other half for when you are ready to serve it. Visit Barilla for more recipes! Buon appetito!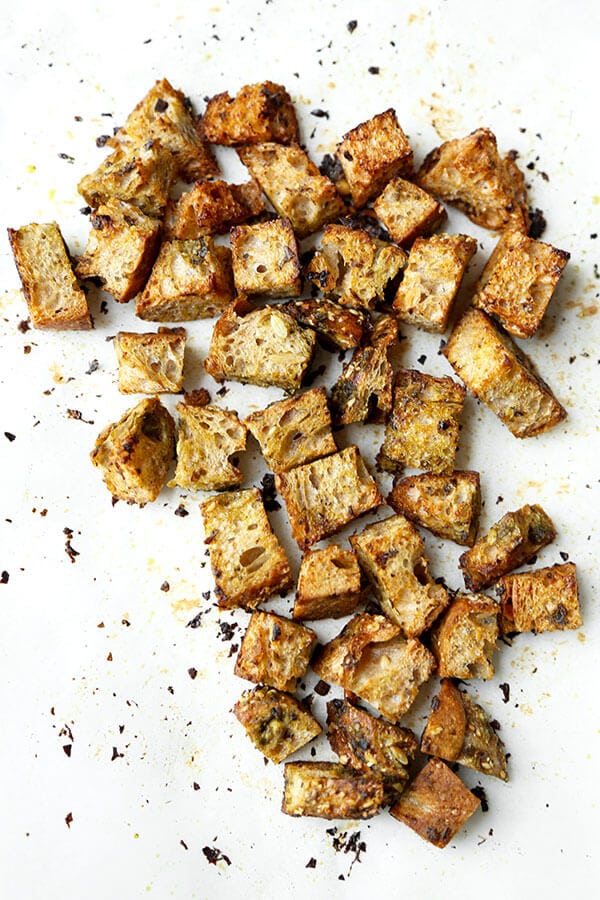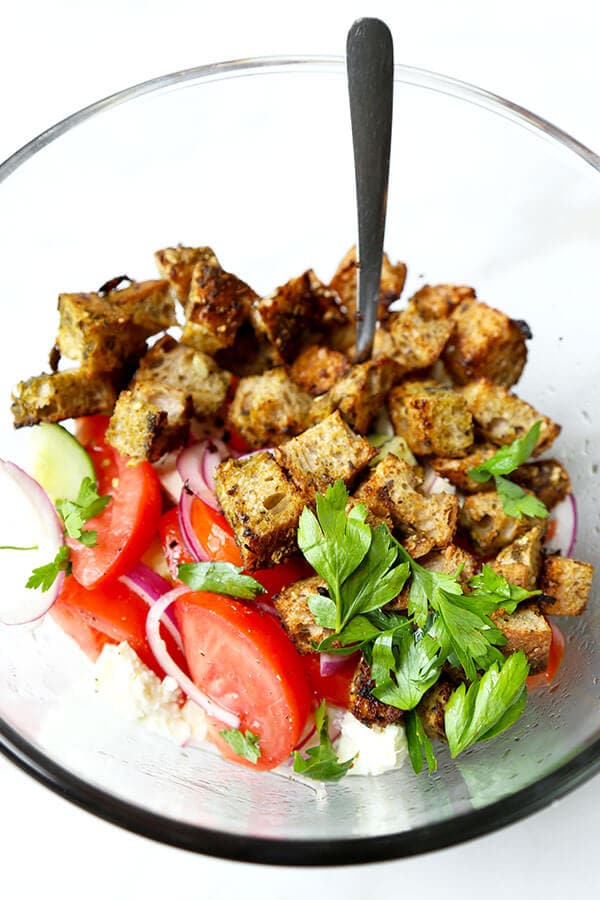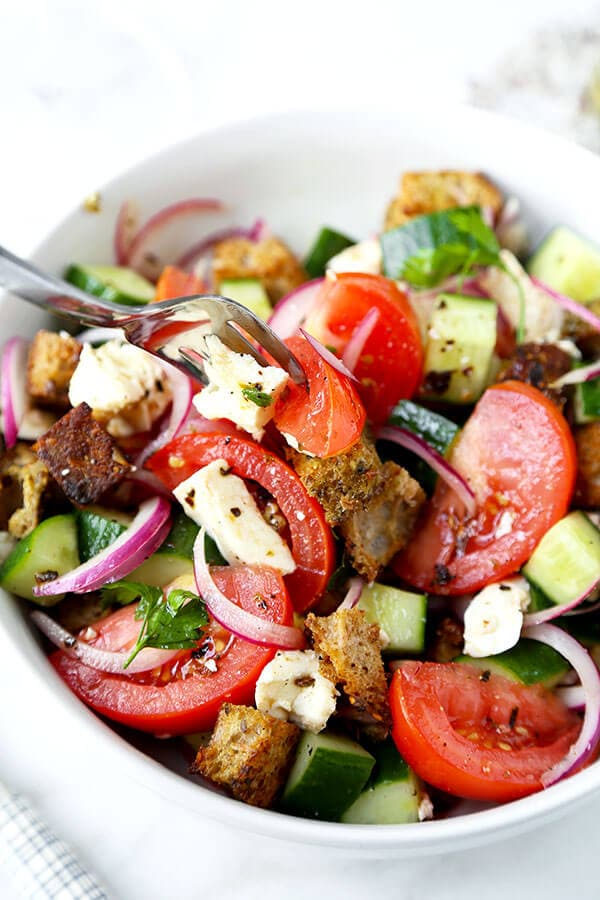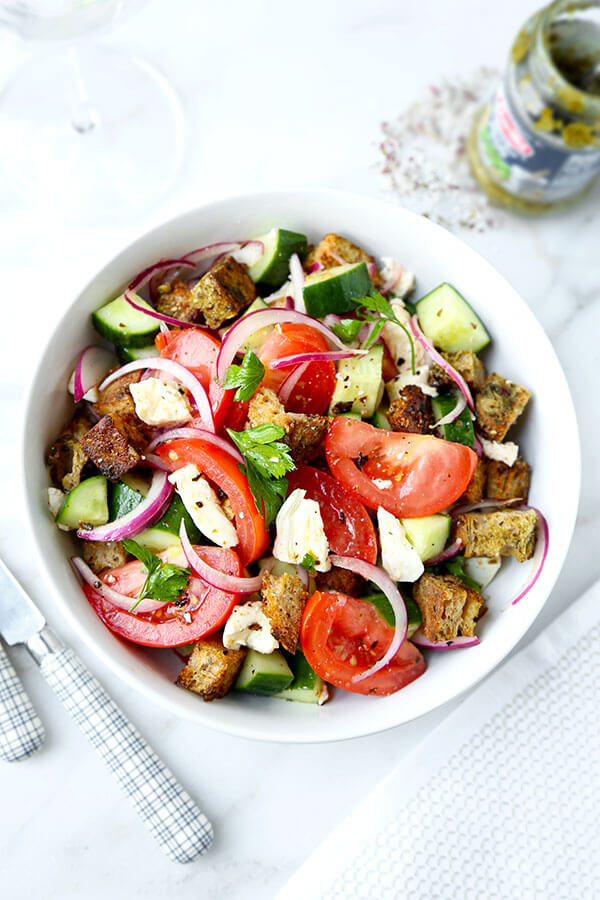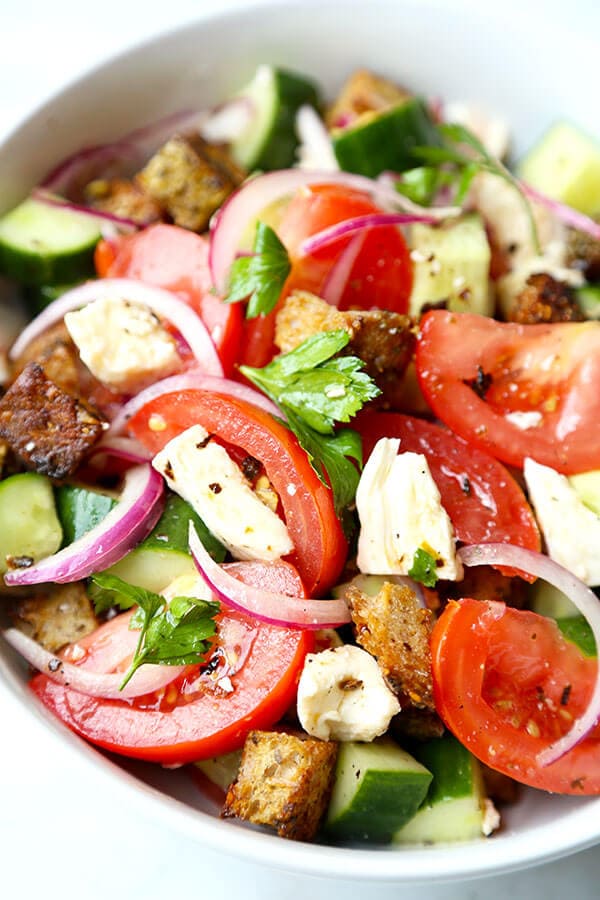 Penne With Sun Dried Tomato Pesto
Author:
Prep time:
Cook time:
Total time:
Ingredients
20 sun dried tomatoes in oil
5 tablespoons Barilla Pesto Sauce
1/3 cup grated parmesan cheese
6 kalamata olives, pitted
1 pound Barilla Organic Penne Pasta
handful flat leaf parsley
extra virgin olive oil to drizzle
salt and pepper
Instructions
Take the sun dried tomatoes out of the jar and pat them dry with paper towels.
Add sun dried tomatoes, Barilla Pesto Sauce, grated parmesan cheese and kalamata olives to a small blender and blend until smooth. Add a little extra virgin olive oil if the mixture looks dry (about 1-2 tablespoons). Set aside.
Bring a large pot of salted water to boil and add Barilla Penne Pasta. Cook for 12 minutes and drain well.
Transfer penne to a large serving bowl or plate and add sun dried tomato pesto. Toss well and top with fresh parsley.
Drizzle a little good quality olive oil and season with salt and pepper. Serve.
Panzanella Salad
Recipe Type
:
Side, salad, healthy
Author:
Prep time:
Cook time:
Total time:
Ingredients
2 cups whole grain bread sliced into bite size cubes
2 tablespoons Barilla Pesto Sauce
1 large tomato, chopped bite size
1/2 English cucumber, chopped bite size
1/2 red onion, sliced into thin half moons
4 oz mozzarella, hand torn into bite size pieces
handful fresh parsley
2 tablespoons lemon juice
1 tablespoon red wine vinegar
2 tablespoons extra virgin olive oil
salt and pepper to taste
Instructions
Preheat oven to 350ºF.
Cover a cooking tray with parchment paper and add bread cubes. Pour Barilla Pesto Sauce on top and toss using your fingers until bread is coated evenly.
Bake in the oven for 13-15 minutes, until golden brown and crunchy.
Put tomato, cucumber, onion, mozzarella and parsley in a bowl and top with bread cubes.
In a smaller bowl, whisk in lemon juice, red wine vinegar and olive oil and pour over the salad.
Toss well and season with salt and pepper. Serve immediately.
This is a sponsored conversation written by me on behalf of Barilla Pasta Company. The opinions expressed in this posting are all mine and are not shared by the organization.