October 2016 Blogging Income Report
*This post may contain affiliate links. Read my disclaimer here.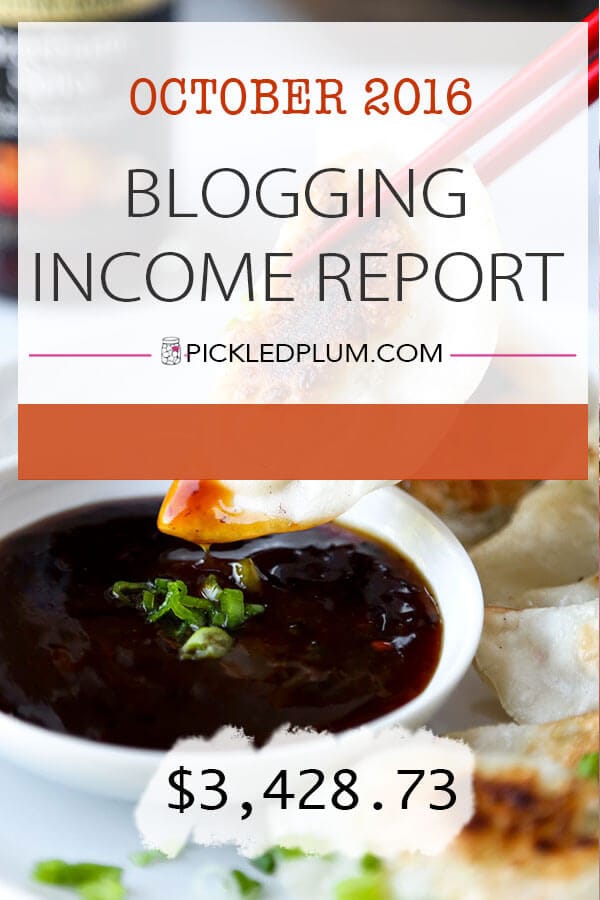 Hi and welcome to this month's income report!
I started Pickled Plum five years ago as a way to collect and share recipes I created on a whim. This blogging thing wasn't something I envisioned doing long term: I was studying at FIT to become an image consultant and worked full time in retail. During that year I only managed to post one or two recipes per month. My schedule was packed and to be honest, I was taken aback by the amount of time and energy it took to shoot, edit and publish a recipe.
The second year was even worse: I barely gave the blog any attention, leaving it bare and neglected. I was struggling at my job and slowly realizing that fashion may not be my calling. The third year is when I decided to take this blogging thing a little more seriously. I saw that people were making money, thanks to blogs like Pinch Of Yum (who is responsible for making income reports so popular) and that gave me the motivation to focus my energy on taking better pictures, creating unique content and reading about SEO. Thanks to a very supportive husband, I was able to quit school and my full time job in retail to fully focus on my blog. What can I say – I fell deeply, madly in love with food blogging!
Since then, Pickled Plum and myself have grown tremendously. I've published over 550 recipes and finally feel confident that I can earn a comfortable living from it.
Why I am sharing this with you
The reason why I decided to publish monthly income reports is to show you that making money online can be done. Some blogs find success right out of the gate while others take longer to develop and find their voice. Mine was in the latter category. It took patience, perseverance and lots of coffee to get here. It wasn't an easy climb but it was worth every drop of sweat! Whether you already are a blogger or are thinking of getting started, I hope I can help you navigate through all the steps and hurdles of blogging a little more easily. And just like the bigger blogs that were there to motivate me when I needed a lift (just looking at their earnings was inspiring enough!), I hope I can do the same for you!
---
BLOG INCOME REPORT FOR OCTOBER 2016
*Please note some of the links below are affiliate links. 
Income: $3,428.73
Expenses: $188.70
OCTOBER 2016 NET PROFIT: $3,240.03
---
TRAFFIC RECAP
October's traffic was steady. There was a slight increase from the previous month but nothing specific to report on.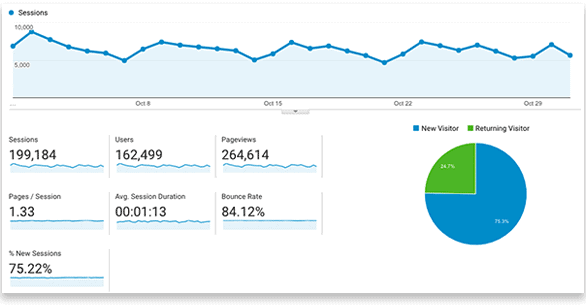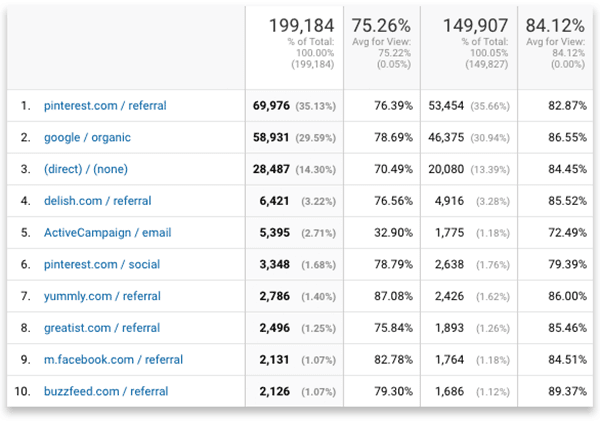 ---
Join my Tailwind Tribe so you can grow your Pinterest traffic!
I've recently created an Easy & Healthier Recipes Tribe and would love for you to join it! Send me an email by using this contact form and write "I wanna join your Tribe!".
To those unfamiliar with the program, Tailwind is the best tool online to grow your Pinterest traffic. It's a pin scheduler that also has "Tribes" to help you join forces with other food bloggers and share content as well as maximize your reach. You have the option of joining for free (free members can also join Tribes) or pay $10 a month for the full program. The concept is very simple and brilliant: instead of going on Pinterest and re-pinning other bloggers content in hopes that they will return the favor, Tribes are groups where members (food bloggers for instance) focus on sharing each others content. So if a Tribe is made of 25 food bloggers, this means your content will be shared across 25 different Pinterest accounts. It's a win win for every blogger and I can guarantee that your audience will grow steadily. I use it every week and have noticed that the more active (and the more bloggers I invite to join – like you!) I am, the better it is for me and everyone involved.
A Good Christmas Gift Post
'Tis the season and it's time to promote the kitchen tools you love using! Creating a Christmas gift post should now be at the top of your list – and don't wait until a week before Christmas to post it! I'm working on mine as we speak and I suggest you do the same. Aim to have yours going live shortly after Thanksgiving since this is when people start looking for gift ideas. This is a great, effective way to make a few extra dollars and increase your blog earnings (through the Amazon affiliate program or other affiliates you are using). Here is the post I created last year: Christmas Holiday Gift Guide. 
I would also recommend you create a small banner to add to your sidebar so that your post gets constant exposure. Or make sure that the post stays at the top of your home page until Christmas eve. You can use a program like Canva to create a quick banner.
To Post Or Not To Post On Black Friday
This is the time of the year where traffic will most likely be better than usual for you and almost every other food blogger on the web. People are looking for recipes to cook for Thanksgiving, Christmas and other religious holidays, so you don't have to worry about seeing a major loss in traffic these next couple of months. Many of the bigger bloggers you follow will be publishing on black Friday. Why? Because everyone will have leftovers and wonder what to do with them. So yes, do post on black Friday, traffic is surprisingly good!
Come up with a simple recipe (you don't have to re-invent the wheel) that you would be tempted to make with your own leftovers. Think of easy lunches for people to take to work or something kid friendly.
Planning these posts ahead of time is the difference between having a successful end of November – December period versus a stressful one (meeting your deadlines) due to bad time management. So put your next recipe post aside and focus on these two posts for now 🙂
And that's it for October!
If you have any questions or tips to share, please leave them in the comments section. I'd love to hear from you!
---
Pickled Plum is a participant in the Amazon Services LLC Associates Program, an affiliate advertising program designed to provide a means for sites to earn advertising fees by advertising and linking to amazon.com.