This recipe is sponsored by Nakano Natural and Seasoned Rice Vinegar.

Mushroom And Zucchini Uramaki (Inside Out Roll)
I still vividly remember the first time I ate sushi.
I was eight years old and my mother was hosting a dinner party at our house in Montreal. It was the first time she was making sashimi and sushi rolls for her French Canadian guests and I followed her with excitement through every step of the process. She showed me how to flavor rice, told me to always wet my hands before holding rice into my palms to prevent the grains from sticking, and how to roll ingredients using a bamboo mat. It seemed like such a complicated process back then that I gave up after just one try. I was so little and my roll felt inadequate next to my mother's perfectly shaped maki rolls, inarizushi and temaki sushi.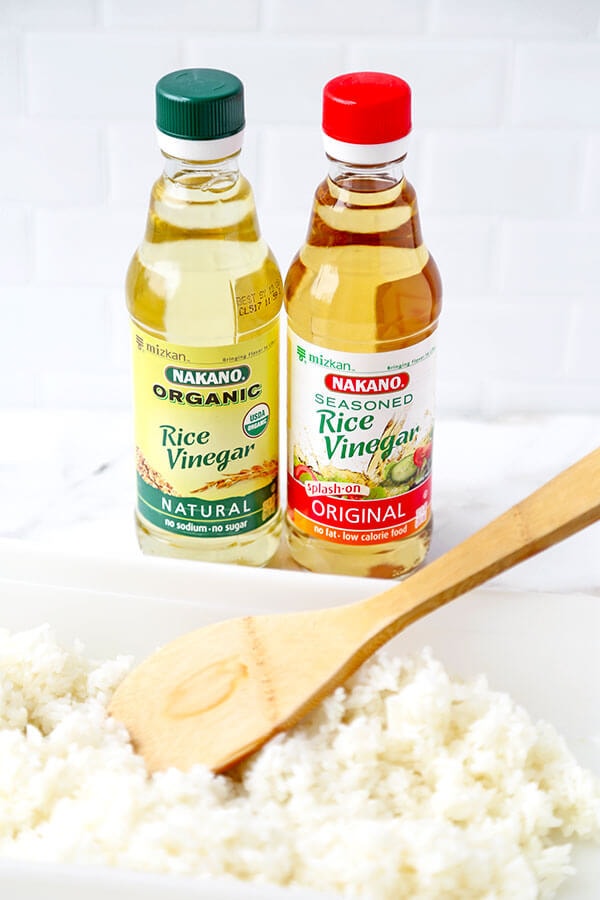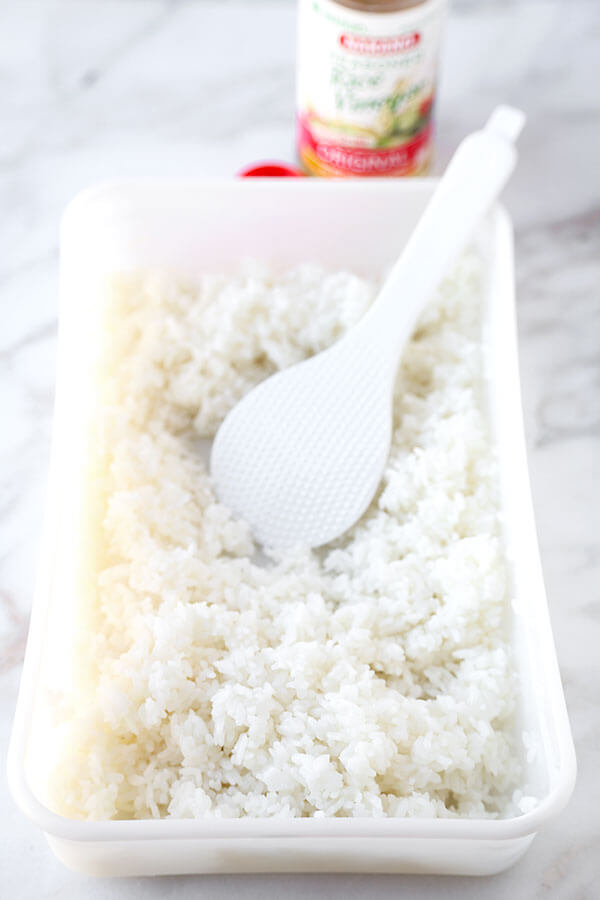 That didn't stop me from stuffing my face though! As soon as I took a bite, I was in love. You would think an eight year old kid would have an aversion to raw salmon but not me – it was the best thing I had ever tasted. The combination of nori, warm rice and a fresh, melt-in-your-mouth slice of salmon was a revelation. I didn't know flavors and textures such as these rolls existed and I was now hooked.
Months later I begged my mother to make more of that "stuff that melts in your mouth". I couldn't remember what it was called and didn't know it was raw fish I was eating. So every time she said "you mean sashimi? Sushi?" I replied "no, not that. The stuff the that melts in your mouth!" This went on for years until I finally had sashimi again, about a decade later. I had the same reaction as I did the first time: it was the best thing I ever tasted, only this time I would remember the ingredients and what it was called!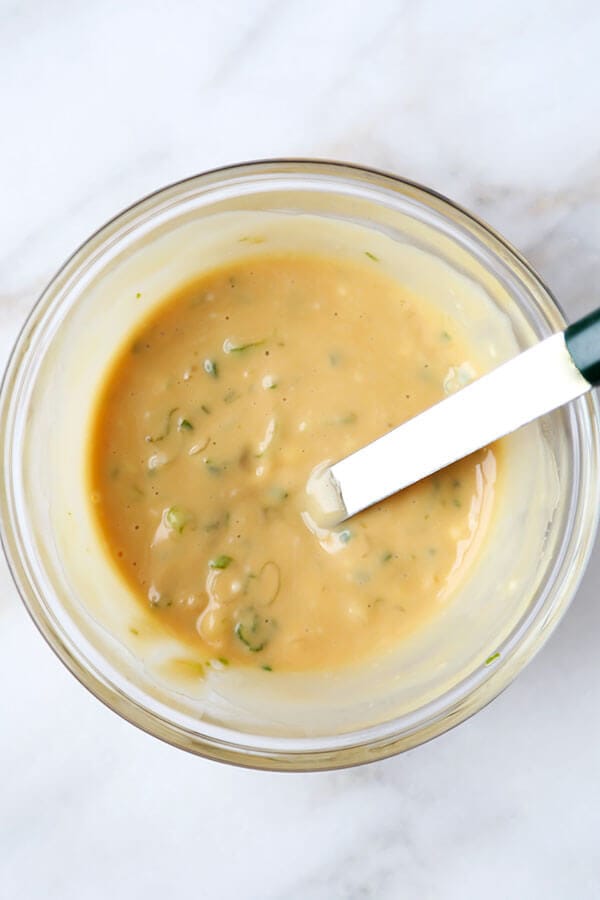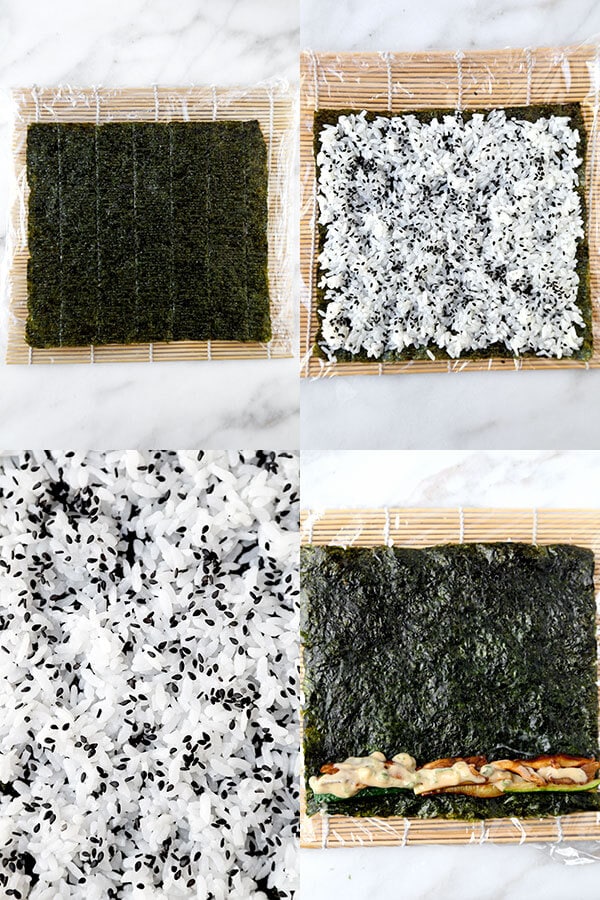 Nowadays I make my own maki rolls. It took me a few attempts to learn the right process and I'm here to tell you it's really not that complicated! The hardest part about making rolls is using restraint in the ingredients that you use. Too much rice or filling makes it impossible to roll properly as ingredients spill out. Having good rice is also very important – you want the rice to be at room temperature or a little warmer. That's because the texture is more tender and chewy than cold rice. The rice should be seasoned with a mixture of salt, sugar and rice vinegar.
I use Nakano Original Seasoned Rice Vinegar for the rice because it's not too sweet or acidic. It has just the right balance to make my rice come out tasting delicious every time. Nakano rice vinegar is also free of artificial ingredients and preservatives as well as being gluten free. If you read my blog regularly, you know I use Nakano in many of my recipes and that's because their rice vinegars are clean and pure in taste.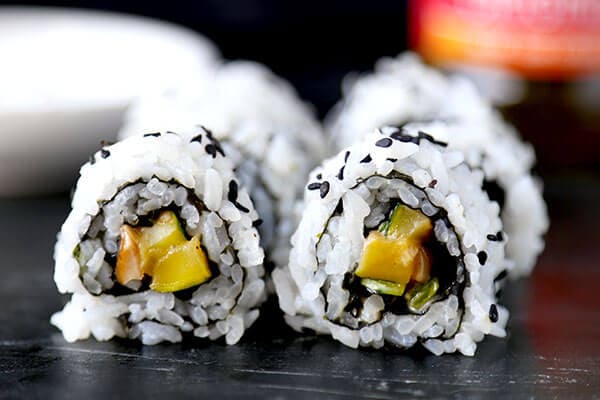 Once you get a hang on making rolls you won't be able to stop. There are so many different variations you can create and play with, this mushrooms and zucchini uramaki is just one of them!
You can make the filling and mayo sauce ahead of time and keep them both refrigerated until you are ready to roll away. These rolls are best eaten at room temperature and can be served with or without soy sauce and wasabi.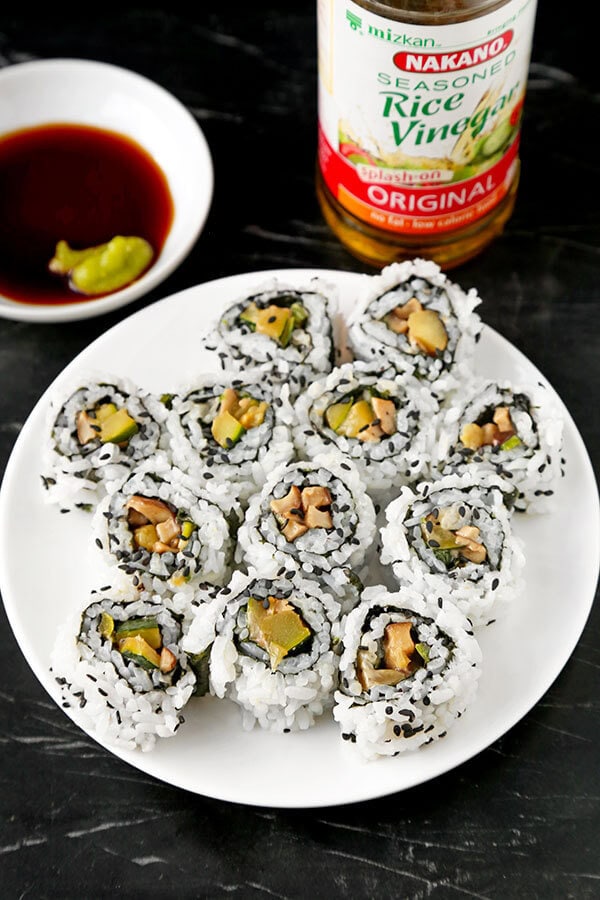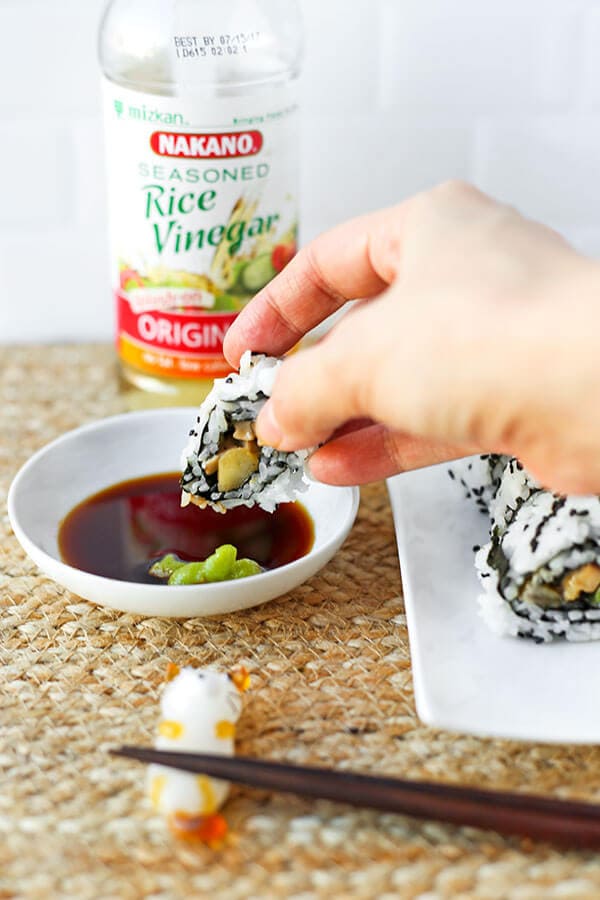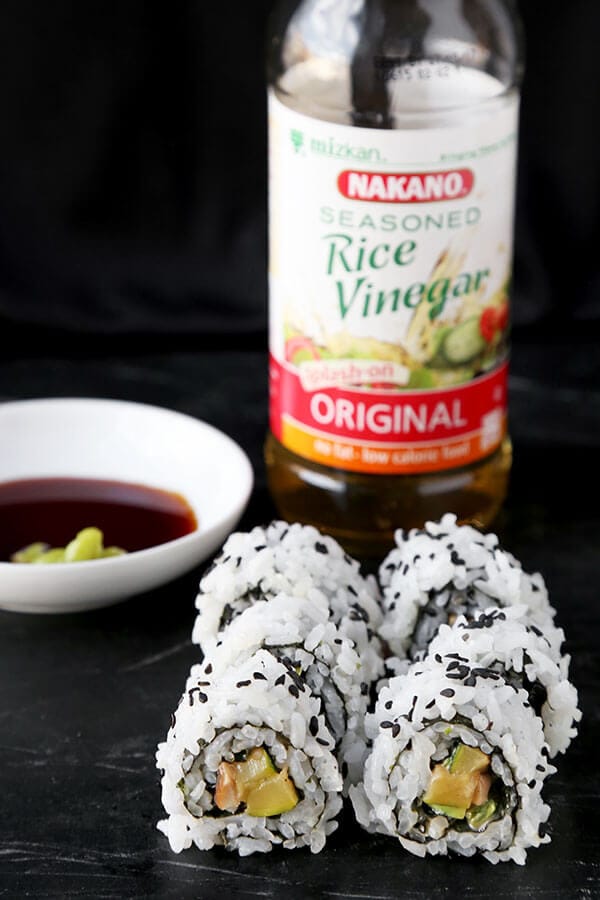 Did you like this Mushrooms And Zucchini Uramaki Recipe? Are there changes you made that you would like to share? Share your tips and recommendations in the comments section below!
You can receive recipes like these rolls, cooking tips, and coupons delivered to your inbox by subscribing to the Nakano e-newsletter – Sign up here.
Print
Mushroom And Zucchini Uramaki (Inside Out Roll)
Prep Time:

10 minutes

Cook Time:

5 minutes

Total Time:

15 minutes

Yield:

2

rolls

1

x
Category:

Appetizer, Snack

Cuisine:

Japanese
1 tablespoon

extra virgin olive oil

5 ounces

shiitake mushrooms (stems removed and chopped into strips)

1

zucchini (chopped into strips)

2

nori sheets

1 tablespoon

white or black sesame seeds
Sushi rice
1 1/2 cup

cooked Japanese rice at room temperature

2 tablespoons

Nakano Original Seasoned Rice Vinegar

1/2 tablespoon

sugar

1/2 teaspoon

salt
Mayo spread
1

scallion (finely chopped)

1 teaspoon

soy sauce

1/2 teaspoon

mirin

2 tablespoons

mayonnaise
salt and pepper to taste
Instructions
In a medium size pan over medium high heat, add olive oil, mushrooms and zucchini. Cook for 4-5 minutes, until zucchini is softer but still yields a crunch. Turn the heat off, season with salt and pepper and transfer to a plate. Set aside.
Put the rice in a large bowl and add rice vinegar, sugar and salt. Using a rice paddle fold the rice until the ingredients are evenly spread.
Making uramaki rolls: Place a sheet of nori on top of a bamboo mat (sushi roller).
Set a bowl of salted water next to the bamboo mat and wet your fingers. Add 3/4 cup cooked rice to the center of the nori sheet and spread it evenly across by gently pressing down. Continue until the entire sheet is covered. Sprinkle sesame seeds evenly on the rice.
Flip the sheet over so the rice is facing down. Add a little mayo and a few pieces of zucchini and shiitake mushrooms across the edge of the sheet closest to you (parallel to you).
Grab the bottom of the mat with your thumbs and hold on to the filling with your remaining fingers. Roll away from you while keeping a slight pressure on the mat. Keep rolling until you've reached the end of the mat.
Wipe a sharp knife with a wet cloth and cut the roll into bite size pieces.
Serve with soy sauce and wasabi.
Recipe Card powered by