July 2016 Blogging Income Report
*This post may contain affiliate links. Read my disclaimer here.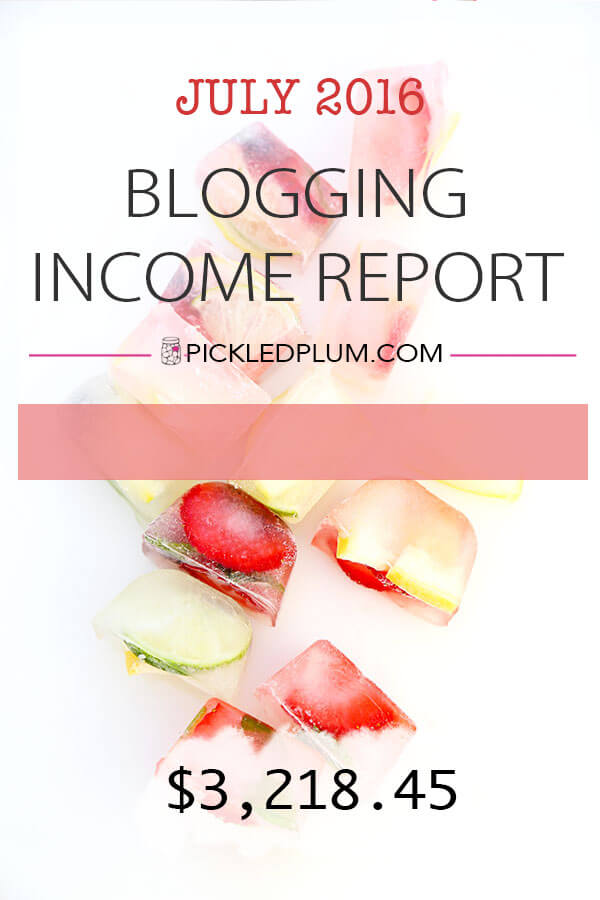 Hi and welcome to this month's income report!
I started Pickled Plum five years ago as a way to collect and share recipes I created on a whim. This blogging thing wasn't something I envisioned doing long term: I was studying at FIT to become an image consultant and worked full time in retail. During that year I only managed to post one or two recipes per month. My schedule was packed and to be honest, I was taken aback by the amount of time and energy it took to shoot, edit and publish a recipe.
The second year was even worse: I barely gave the blog any attention, leaving it bare and neglected. I was struggling at my job and slowly realizing that fashion may not be my calling. The third year is when I decided to take this blogging thing a little more seriously. I saw that people were making money, thanks to blogs like Pinch Of Yum (who is responsible for making income reports so popular) and that gave me the motivation to focus my energy on taking better pictures, creating unique content and reading about SEO. Thanks to a very supportive husband, I was able to quit school and my full time job in retail to fully focus on my blog. What can I say – I fell deeply, madly in love with food blogging!
Since then, Pickled Plum and myself have grown tremendously. I've published over 550 recipes and finally feel confident that I can earn a comfortable living from it.
Why I am sharing this with you
The reason why I decided to publish monthly income reports is to show you that making money online can be done. Some blogs find success right out of the gate while others take longer to develop and find their voice. Mine was in the latter category. It took patience, perseverance and lots of coffee to get here. It wasn't an easy climb but it was worth every drop of sweat! Whether you already are a blogger or are thinking of getting started, I hope I can help you navigate through all the steps and hurdles of blogging a little more easily. And just like the bigger blogs that were there to motivate me when I needed a lift (just looking at their earnings was inspiring enough!), I hope I can do the same for you!
---
BLOG INCOME REPORT FOR JULY 2016
*Please note some of the links below are affiliate links. 
Income: $3,218.45
Expenses: $142.65
JULY 2016 NET PROFIT: $3,075.80
---
TRAFFIC RECAP
July is usually the slowest month for us but this year has proven to be slightly better than June in terms of unique visitors (sessions) – at 208,013 vs 196,025 last month . However, we saw a dip in the amount of page views per visitor (Page/Session) – at 1.28 compared to 1.35 last month. So what does this mean? It means that although we received more visitors to the blog, they spent less time browsing around our content.
1.28 next to 1.35 page views per visitor seems like nothing but it makes a pretty significant difference over the course of 30 days. Even though we received 11,988 more unique visitors in July, the difference of total page views from this month to last month is of only 1,532. Paying attention to these numbers is very important because it tells you how visitors behave on your blog, which is what I want to focus on talking about in this month's blog income report.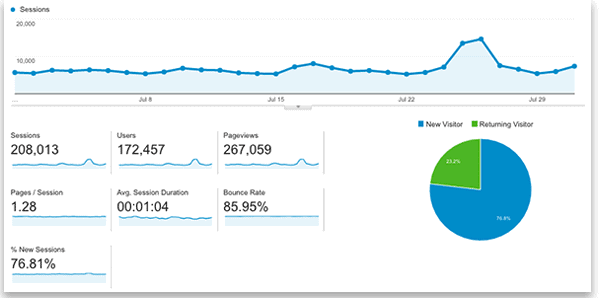 TOP TRAFFIC SOURCES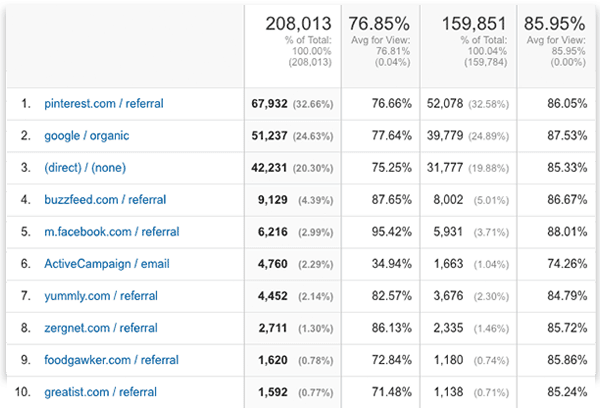 ---
Should you focus on getting more unique visitors to your blog or making your blog more user friendly?
The answer is both. I would say if you are just getting started, focus on getting more people to come to your site and create good, solid content. If your blog has been around for a couple of years (or months if your blog is on fire!) and you are fairly happy with the amount of traffic you are getting, then focus on making it more user friendly.
Getting visitors to stay on your site and visit more than one page will not only increase your earnings but also help your blog rank higher on Google. That's because Google looks at how relevant the content you have on your blog is to what their search engine displays. If someone looking for a chicken soup recipe goes to your blog and leaves right away, this will count against you. The more often this happens, the less of a reliable source you will be seen by Google. This is known as a bounce rate, which is available in your Google Analytics profile. A high bounce rate will greatly lower your chances of having one of your recipes rank on page 1 of Google's search engine. Google looks at user experience to make sure they are displaying the best and most relevant sites at the top of their list.
There are a lot of factors that contribute to user experience and therefore, sharing them all would take too long. But here are five important ones every blogger should implement on their blog to make it run smoothly and effectively.
1. Use a popup email signup box when visitors first come to your site. Add one more in your sidebar and at the bottom of every post.
Since I've implemented this tip, my list of subscribers has grown by leaps and bound! I used to get two or three new subscribers a day before I added a popup box and a bottom signup form (I only had one in the sidebar). Now I get on average 17-25 new subscribers a day! Having beautiful signup forms will attract visitors to signup for your newsletter. Optinmonster is the program I use because of their quick drag and drop builder. Each form takes less than 10 minutes to setup plus there is an A/B split testing tool available to test which form(s) convert better.
2. Check your blog's page speed performance.
Page loading time is a huge factor in page abandonment. A page that takes longer than 3 seconds to load (most internet users expect a wait of no more than 2 seconds) can stand to lose up to HALF of its visitors. This is no joke! You can check your blog's page speed performance by using GTMetrix or Google Page Speed Test. Fixing what is slowing down your site (image file size, CSS, Javascript) will make your site more powerful and professional looking in the eyes of upcoming visitors. Take your time to read up on this as page speed can literally make or break a blog.  
3. Have a Popular Posts widget in your sidebar
Simple, easy and a sure way to increase your page views. Ideally, you want your blog to be user friendly in a way that keeps the readers inside going from one page to another. The longer you can keep their attention means you raise your chances to sell products, gain new subscribers, increase page views (which automatically increases your earnings if you are with CPM affiliates such as Sovrn – click here for a detailed list of affiliates I recommend joining) and get them to come back. We all have a list of blogs and websites we visit regularly because we feel like they provide useful information or are fun to look at. That's because they do a good job of sharing their most popular content by putting them upfront so everyone can easily access them. Do the same for your blog and you will see an increase in page views.
4. Link to other internal recipes and posts in all of your posts.
Again, this is to keep the readers from leaving your blog. Link to other recipes similar to the one they are looking at or content that could be related to keep them interested. I have a minimum of 5 links per post and sometimes add thumbnails of recipes at the bottom of a post to entice readers to click on them.
5. Lastly, make sure everything is working properly on your blog.

Every couple of months or so, take a moment to test your links, buttons, signup boxes on your home page and 10-15 of your most popular posts. Doing a little maintenance on a regular basis can really pay up and save you time in the long run. This is detrimental to your blog's success because you could be missing out on new followers, sales and/or extra page views.
And that's it for July!
If you have any questions or tips to share, please leave them in the comments section. I'd love to hear from you!
---
Pickled Plum is a participant in the Amazon Services LLC Associates Program, an affiliate advertising program designed to provide a means for sites to earn advertising fees by advertising and linking to amazon.com.