Written by: Ben Phelps
Firenze Sandwich at Sfilatino
Bread matters. When I get a flaky baguette, still warm from the oven, I get a little weak in the knees. It has always been this way. So a year ago, that's precisely what made my first lunchtime foray to Sfilatino in Midtown the first of many, as opposed to the first and the last. The guy behind the counter flogging his Italian sandwiches kept telling everyone within ear shot that the bread was made daily to the strict specifications you'd insist upon if you ran a bakery in Italy. I was sold on the idea alone…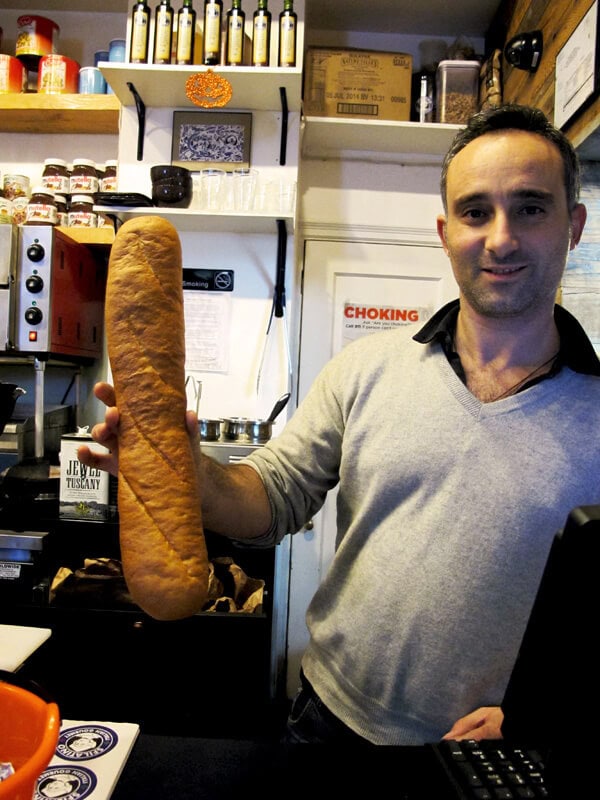 It also didn't hurt that the small baguettes' crust was crispy on the outside, yielding and soft on the inside and toasted to perfection. And now, after having tried nearly every creation in the menu, I've come to the conclusion that the perfect storm of ingredients exists in the Firenze.
Savory bresaola (air dried and paper thin beef) on a bed of jarred velvety pioppini mushrooms – also known as black poplar or shimeji mushrooms (like in this chicken stew) and topped with shaved grana padano cheese (think of an amazing pecorino with all the crunchy salty bits). Add peppery baby arugula to the works and you're almost there. A drizzle of rich and fruity olive oil on the Sfilatino baguette – and I'm swooning.
It is no secret – I've been on a sandwich kick lately. And, while what's between the bread better be good, the outer shell is what you end up spending the most time with in a sandwich's short life cycle. Not unlike the mayfly that lives for a day, most bread is good for about as long. If I get a lacerated mouth on a sandwich shop's day old garbage, I'll go Bruce Banner on a bad day in Bosnia. Bread is as integral to the sandwich's success as rice is to sushi ("Please place some overcooked wallpaper paste right underneath a delicate piece of yellowtail," said no one, ever). Well it's the same with a sandwich and the bread that makes it something other than just rolled up ham and Kraft singles dunked in a mayo jar at 3am.
Rant finished. Seacrest out.
If you're not feeling the beef in the Firenze, there's the Padova with gamy and salty speck (rosemary cured ham), grilled radicchio, a bracing take-no-prisoners gorgonzola and walnuts. Or how about the spicy Crotone with hot sopressata, smoked scamorza cheese, grilled eggplant and a hit of Tabasco. There are really no wrong choices at Sfilatino. And as long as they keep the same baker for their daily bread, they can have a significant portion of my paycheck every week.
Sfilatino is located at 342 West 57th Street in New York City