How To Cook Spaghetti Squash – The Ultimate Guide
The first time I thought of cooking spaghetti squash I felt intimidated. I wasn't familiar with the fruit/vegetable (the debate still goes on) and thought it looked hard to prepare. After having a few conversations with other home chefs I realized I wasn't the only who felt perplexed about it. How do you cook it and what do you cook it with? What does it taste like and how do you serve it? Is it healthy, unhealthy or mostly made of water like a watermelon? I had a bag full of questions. Luckily, the internet is vast and there is a LOT of information about spaghetti squash, so here is a condensed version of all you need to know about this stringy yellow gourd.
What is spaghetti squash?
Spaghetti squash is a variety of winter squash that's oval and yellow, with flesh that ressembles spaghetti strands when scraped once it's cooked. It's delicate in flavor (a little sweet though much milder than butternut squash) and watery. Its texture is a little crunchy and stringy which is why it is a popular choice to use as a substitute for pasta or Asian noodles. It usually measures between 8 to 14 inches in length and weighs 2 to 3 pounds.
How long does it keep?
Stored in the fridge or on your counter, a spaghetti squash that's uncut will last between 1 to 3 months.
Cooked and scooped out of its flesh it can keep for 3 to 5 days in the fridge.
You can also freeze it in small portion for a few weeks. However, many people have reported that this method isn't recommended as the squash gets quite watery and mushy once thawed.

Cooking Spaghetti Squash
There are many different ways of cooking spaghetti squash but the two easiest and most popular ways are baking and microwaving. Since the flesh is thick and hard to cut through, it's easier to bake or microwave the spaghetti squash whole (you must pierce the skin a few times to let the steam escape) until the skin softens. Once the squash is cooked through, slicing through the skin becomes as easy as slicing through a zucchini!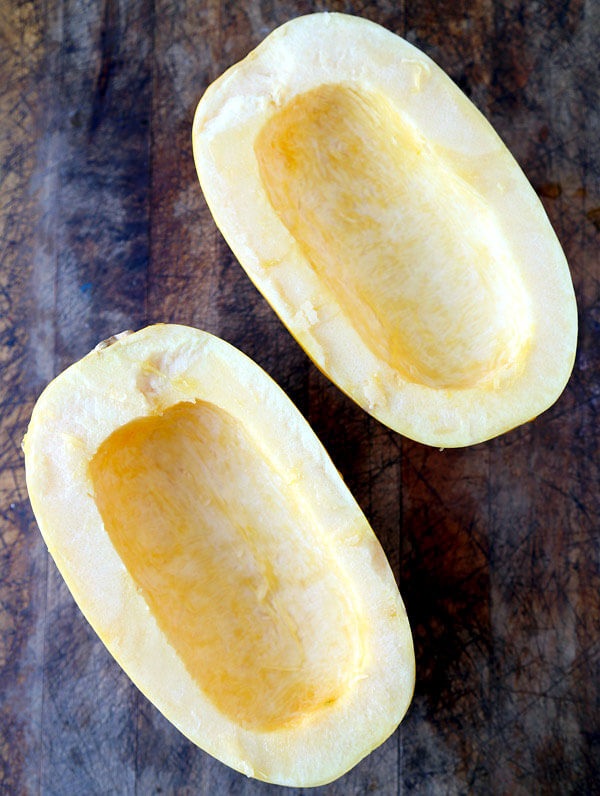 How to bake spaghetti squash in oven
Preheat the oven to 375ºF. Pierce the skin of the spaghetti squash a few times and place it on a cookie tray. Bake in the oven for about one hour, or until you can pierce through the skin without any resistance. Take the spaghetti squash out of the oven and let it cool for 15 minutes. Slice in half, discard of the seeds and use a fork to scrape the squash into think long strands.
*This preparation is for a 3-4 pound spaghetti squash. You may need to bake longer if the squash is bigger.
Cooking spaghetti squash in microwave
Wash the squash and pat dry. Put squash in a microwave safe baking dish and microwave on high for 3-4 minutes, until the skin gets softer (keep an eye on the squash to ensure it doesn't burn in the microwave). Take it out of the microwave and place the spaghetti squash on a cutting board. Slice the spaghetti squash in half lengthwise and use a spoon to remove the seeds. Add about an inch of water to the baking dish and place the spaghetti squash halves with the fleshy sides facing up. Microwave for 8-12 minutes, or until the exterior is tender. Let cool for 15 minutes and shred the flesh using a fork.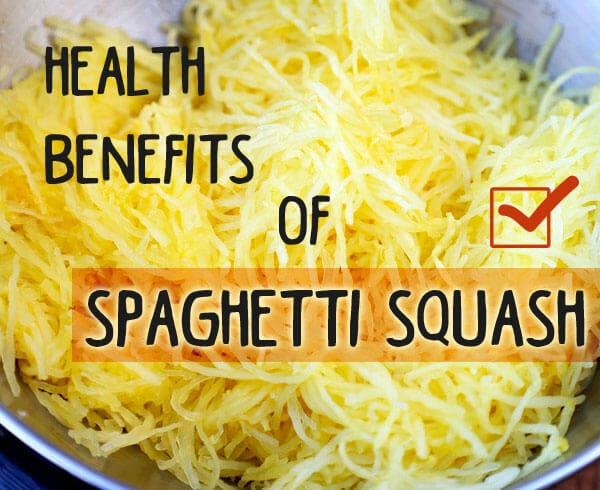 What are the health benefits?
It's very high in vitamin A which is good for strengthening the immune system and encourages bone growth. Vitamin A is also essential to healthy vision. 1 cup of spaghetti squash contains about 10% of your daily vitamin A intake according to USDA.
It's rich in vitamin B which helps maintain healthy skin and hair, helps in the production of new cells and preventing heart disease. It also breaks down carbohydrates and may aid in alleviating migraines.
It contains manganese (our bodies only need small amounts of it at a time). Manganese regulates blood sugar levels, aids in the absorption of calcium and promotes healthy tissues and sex hormones.
It contains Omega-3 and Omega-6 fats which help prevent inflammation, which help diminish symptoms of auto-immune disease related to skin and joints.
Spaghetti squash is also loaded with plenty of other vitamins and minerals: potassium, magnesium, copper, phosphorus, sodium, selenium, calcium, iron, zinc, thiamin, folate, vitamin K, riboflavin, niacin and pantothenic acid.
How many calories in spaghetti squash?
Good news – this yellow gourd is very low in calories and fat – only 31 calories per cup(or 101g cubes) and less than 1% fat. This means you can have seconds and thirds!
Spaghetti squash nutrition
Serving: 1 cup (or 101g cubes)
% Daily Value*

Total Fat

0.6 g

0%

Saturated fat

0.1 g

0%

Polyunsaturated fat

0.2 g

Monounsaturated fat

0 g

Cholesterol

0 mg

0%

Sodium

17 mg

0%

Potassium

109 mg

3%

Total Carbohydrate

7 g

2%

Dietary fiber

1.5 g

6%

Sugar

2.8 g

Protein

0.6 g

1%
| | | | |
| --- | --- | --- | --- |
| Vitamin A | 2% | Vitamin C | 3% |
| Calcium | 2% | Iron | 1% |
| Vitamin D | 0%               | Vitamin B-6 | 5% |
| Vitamin B-12 | 0%    | Magnesium | 3% |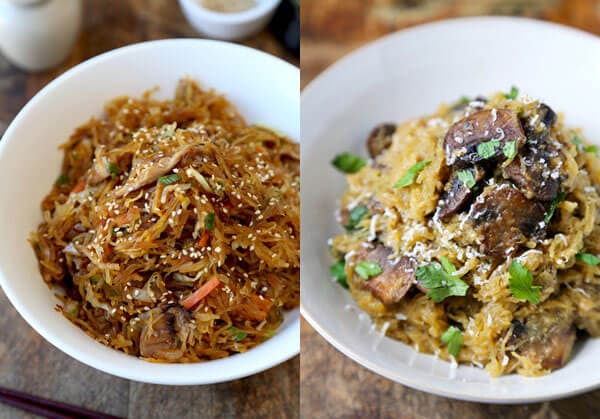 Cooking Spaghetti Squash: Easy spaghetti squash recipes
Have fun and be creative when cooking spaghetti squash! Here are some of my favorite recipes that are cooked on the lighter side but still pack in plenty of flavor!
*How to cook spaghetti squash – the ultimate guide appeared first on pickledplum.com