Written by: Ben Phelps
Lincoln Station's rotisserie chicken sandwich
I've never been more thankful for a long line at the bank. The one working teller was in the weeds, processing a request for a bazillion rolls of nickels. The line hummed impatiently. The Indian summer heat was kicking the open window's ass.
"Let's do this later," I pleaded with Caroline.
"I can't believe you don't deposit those things in the ATM like everyone else," she said looking at my stack of checks like they were antique phonographs. She grabbed my hand and dragged me outside. As she gave me a tutorial on how to bank in the present tense with machines, I spied a spot across the street that looked to be packing them in for lunch. That spot, it turns out, was Lincoln Station – the casual sandwich bar by the same folks that brought Al Di La and Bar Corvo to Brooklyn. Before the hour was up, I would have the best chicken sandwich I've ever eaten in front of me – and would have vowed to never set foot in a bank again.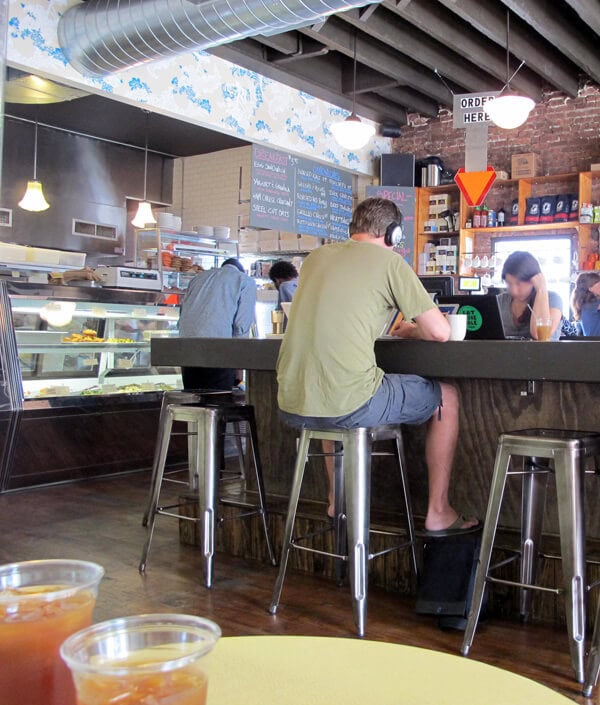 After a look at the menu on the chalkboard above the counter, I felt the indecision set in. A glance around the place had me salivating like a starving cartoon coyote. There was crispy and golden fried chicken behind the glass counter, along with colorful slaws and salads and a tray of freshly sliced oven baked heirloom tomato pizza.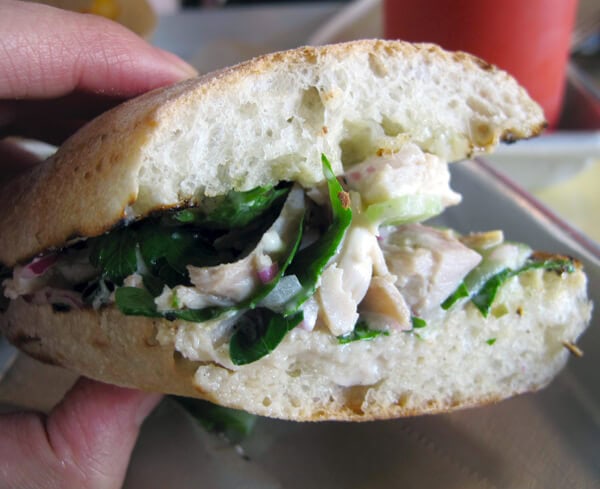 But the sandwiches were calling me. I almost had my mind set on the duck confit sandwich with carrot, ginger and cilantro –  some of my favorite toppings – but something told me to go with the rotisserie chicken sandwich. And even though it's always dangerous to do what the voices in your head tell you to, that's exactly what I did.  We paid up, grabbed some iced teas and had a seat.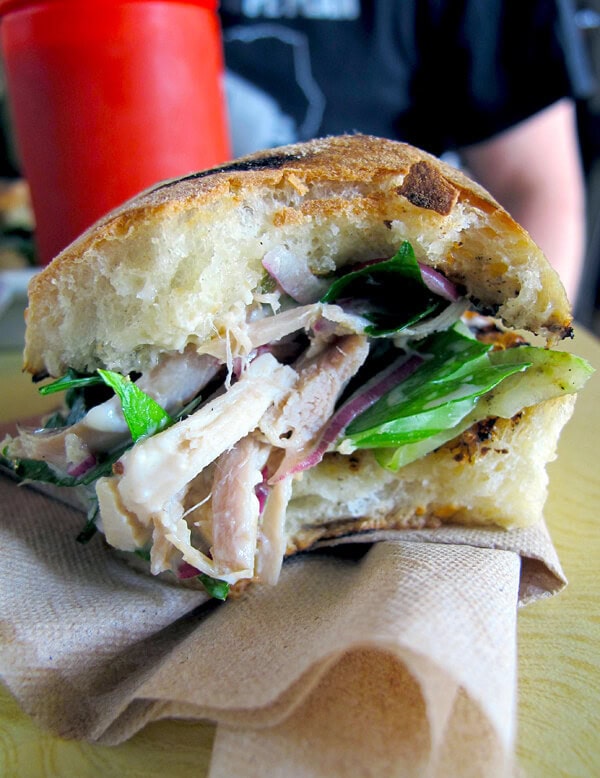 As I got ready to take a bite, I started to recall all of the dry, mayo laden chicken sandwiches I'd had in my past; all of the sad renditions of chicken salad on soggy Wonder Bread. Ugh… What landed however, was nothing short of genius. The mixture of dark and white chicken meat, smoky and shredded to perfection and basted in its own rotisserie juice was drool inducing . Thinly sliced celery and red onions, fresh parsley, capers and a little mayo elevated the flavor profile to something greater than the sum of its parts. Oddly enough, even with all the unmistakable Western flavors, this sandwich reminded me of Caroline's Thai shredded chicken and celery dish. The soft roll, so fresh it still had flour dust on top, was toasted and sliced just the right thickness. Halfway through the sandwich I began to wonder if I had under ordered (when food is this good, I always fiend for more immediately).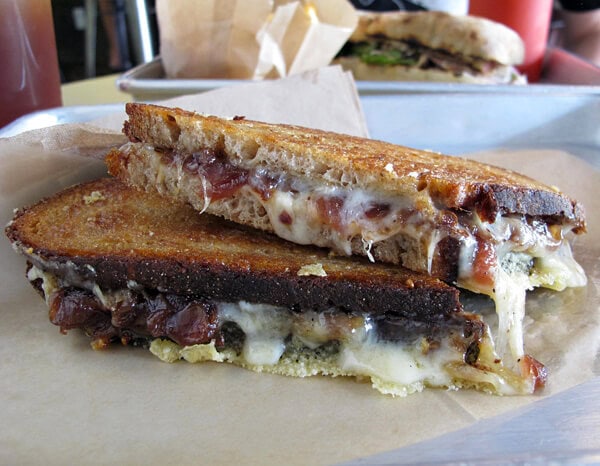 Luckily we split a molten caramelized grilled cheese – crispy, gooey and creamy perfection. Savory Emmentaler cheese tempered by the sweetness of fried red onions is always a good thing. The side of crispy and salty fries we ordered nailed that almost-impossible-to-achieve balance of cereal-like crunch on the outside while having an internal texture of mashed potatoes. Boom!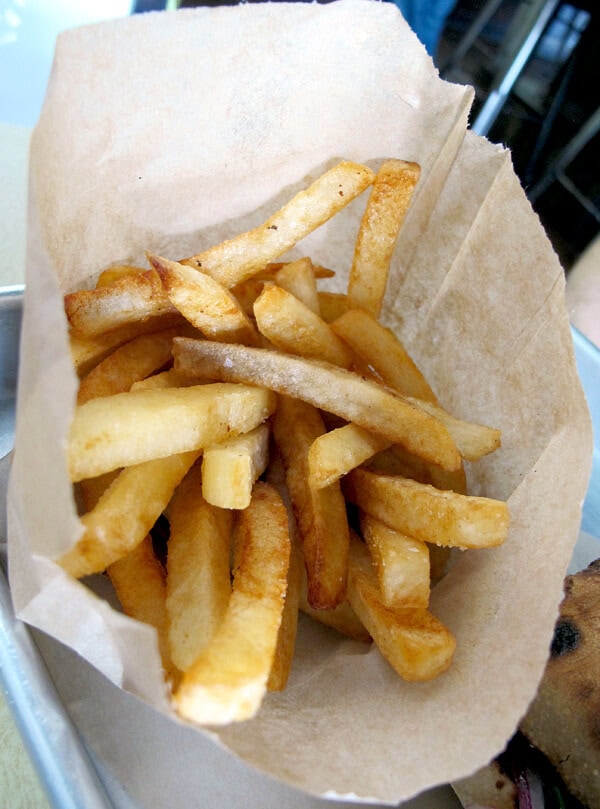 Lincoln Station is as laid back and unassuming as it gets. The center communal table gets packed with people on laptops, churning out TV scripts and snarky tweets while wiping fingers on napkins and nodding heads to downtempo soundtracks. Next time I'm in the neighborhood, not banking across the street like it is 1929 anymore, I'll be devouring rotisserie chicken sandwiches at Lincoln Station like the modern man I am.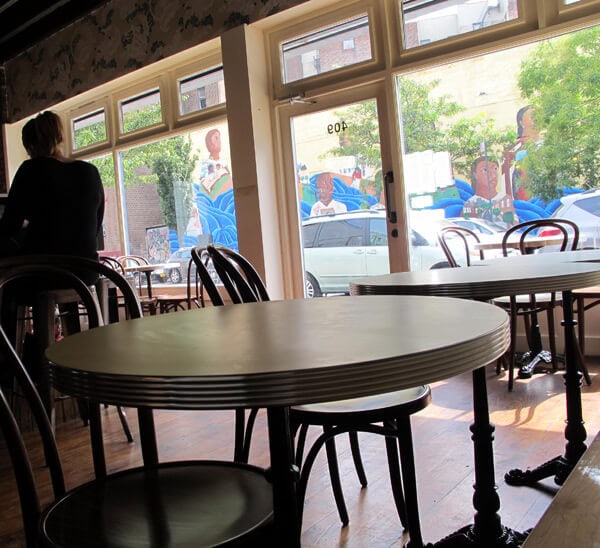 Lincoln Station is located at 409 Lincoln Place Brooklyn, NY
If you're a sandwich fanatic, you might like Num Pang's pork belly and catfish sandwiches and Pork Slope's shrimp po'boy.