Anolon Wok Giveaway + Chicken and Egg with Black Bean Sauce Recipe
I love making stir-fry recipes. Not only are the taste combinations limitless and loaded with vibrant and healthy ingredients, the recipes that call for a quick tumble in the wok are usually super quick and easy to prepare. The idea behind stir-frying is simple: you quickly fry fresh ingredients in a small amount of very hot oil, while stirring in a wok or frying pan. Easy, right? This Chinese cooking technique seals in the flavors of the food while preserving texture and color. Veggies are vibrant and retain a soft crunch – and meats get a perfect sear and remain juicy inside. Added bonus: as summer temperatures start to soar, stir-frying won't tax your AC too much because, although you're cooking at high heat, the burners aren't on for long.
Everyone is busy. And the last thing you want to do after a long workday, epic rush hour commute and compulsory attendance at a piano recital or little league game is come home and prepare a complex, time-consuming recipe so everyone can eat before hitting the sack. At this moment in the day, ordering delivery might seem like a great idea – but not so fast! This savory and healthy, veggie-loaded chicken and egg with black bean sauce recipe I developed for PotsandPans.com is ready in 20 minutes.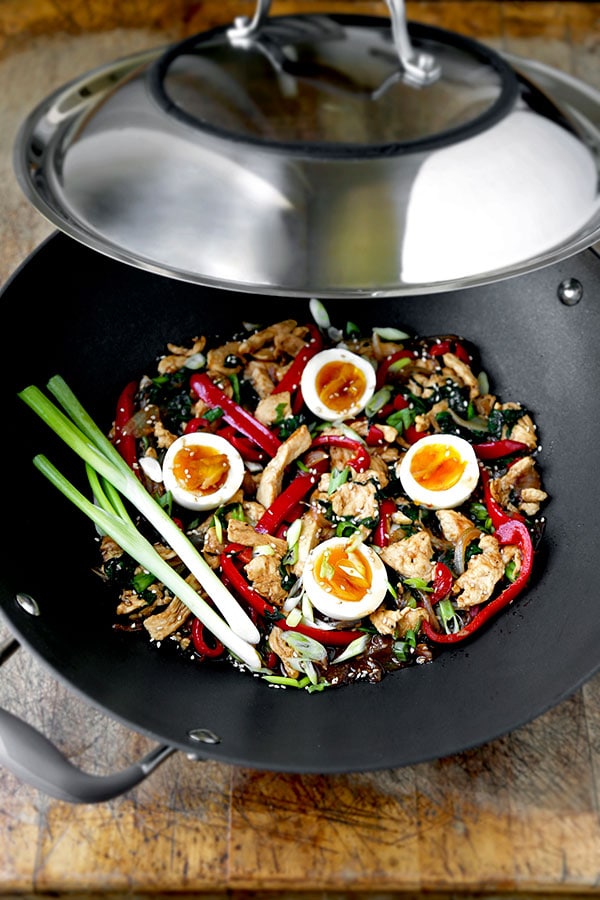 I'm super excited to be teaming up with my friends at PotsandPans.com who are offering my readers (hey, that's you!) the chance to win a wok that will have you stir-frying (and eating) like a champ! And keep your eyes peeled at the end of the summer: PotsandPans.com is celebrating home-cooking with a National Cooking Day campaign on September 25th.
One (1) lucky winner will receive one (1) Anolon 14-Inch Covered Wok with a suggested retail value of $80
The Anolon Advanced Bronze Hard-Anodized Nonstick 14-Inch Covered Wok offers ample room to toss and stir veggies, tofu and meats to create delicious Asian-inspired meals. The wok's hard-anodized construction provides even heat distribution, and the PFOA-free premium-quality nonstick is metal-utensil-safe and ideal for easy cleanup. The wok's lid is constructed with a wide, mirror-polished stainless steel rim that helps bean sprouts and vegetables cook and steam faster and more efficiently – and the shatter-resistant glass in the center of the lid enables you to monitor your cooking. Both the lid and wok feature rubberized stainless steel Anolon SureGrip® handles for a confident, comfortable grasp when stirring, tossing and plating. The handles are dual-riveted for extra strength and oven safe to 400°F.
Be sure to check the Terms and Conditions for this giveaway in the Rafflecopter widget below.
Please note: Anolon will be shipping the winner this giveaway item directly.