I always kinda wanted to be a barista. From my very first trip to a proper coffee shop as a student in Montreal, I was hooked. There was always something about the sound, smell and ritual of the coffee grinder pulverizing coffee beans into the grounds that would make my very own cup of coffee à la minute that illustrated the massive difference between the instant coffee crystals my aunts drank and true coffee culture. And don't even get me started on frothed milk. Once I tried an airy, velvety cappuccino made by someone who knew what they were doing with the steam-wand, it was pretty tough to return to my usual quick dash of cold 2% in my morning brew. Heck, the sound of a coffee grinder still makes me lazily wonder if I should pick up a couple morning shifts slinging lattes.
I'm super excited to be teaming up with my friends at Capresso who are offering my readers (hey, that's you!) the chance to win everything you'll need to take your morning cup of coffee to the to the next level – all while lending your kitchen the sounds and aroma of a proper caffetteria in Rome or Milan.
One (1) winner will receive one (1) Capresso 5-Cup Mini Drip Coffee Maker, one (1) Capresso Ceramic Burr Grinder and one (1) Capresso froth TEC Automatic Milk Frother with a total suggested retail value of $200.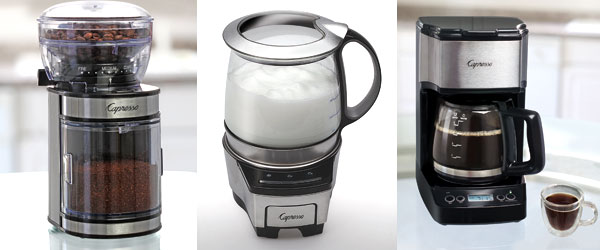 Capresso combines the words cappuccino and espresso to produce something new and distinctive in the world of coffee. The Mini Drip 5-Cup is a compact programmable coffee maker with LCD display and brew-timer that brews 25 ounces into a glass carafe with a brew through lid and drip free pouring spout, perfect for smaller households. Never grind more (or less) fresh coffee than you need with the Ceramic Burr Grinder. The durable burr design delivers consistent, uniform grinding – and can grind beans for espresso machines, drip coffee makers, French press and pour over methods. Press a button and create thick, rich frothed or heated milk in minutes with the froth-TEC Automatic Milk Frother, perfect for making cappuccinos, lattes or hot chocolate. The heating disk warms without ever scalding your milk and has three temperature settings ensuring perfect froth without the hassle.
Be sure to check the Terms and Conditions for this giveaway in the Rafflecopter widget below.
Disclosure: We did not receive any products or other forms of compensation from Capresso for this post.
Please note: Capresso will be shipping the winner these giveaway items directly.