May 2016 Blogging Income Report
*This post may contain affiliate links. Read my disclaimer here.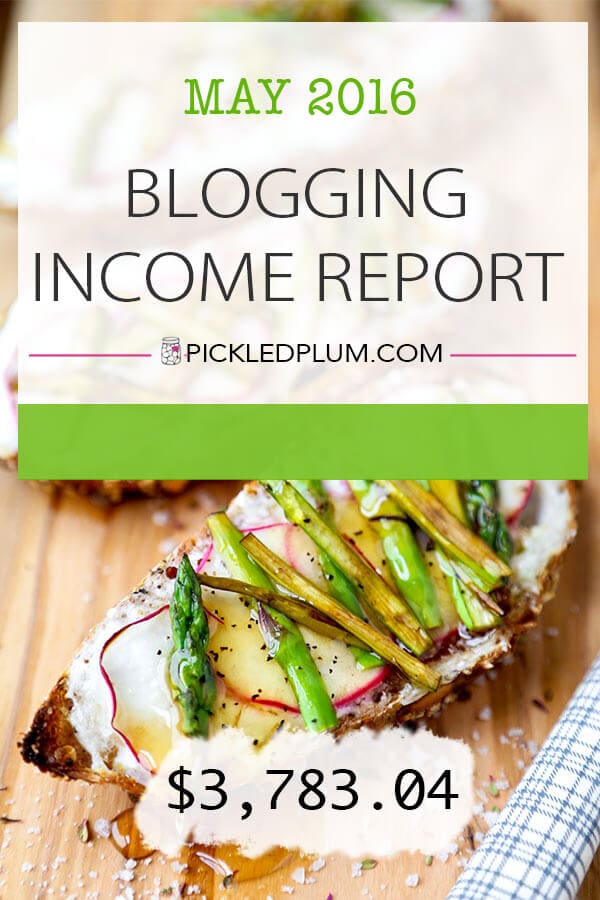 Hi and welcome to this month's income report!
I started Pickled Plum five years ago as a way to collect and share recipes I created on a whim. This blogging thing wasn't something I envisioned doing long term: I was studying at FIT to become an image consultant and worked full time in retail. During that year I only managed to post one or two recipes per month. My schedule was packed and to be honest, I was taken aback by the amount of time and energy it took to shoot, edit and publish a recipe.
The second year was even worse: I barely gave the blog any attention, leaving it bare and neglected. I was struggling at my job and slowly realizing that fashion may not be my calling. The third year is when I decided to take this blogging thing a little more seriously. I saw that people were making money, thanks to blogs like Pinch Of Yum (who is responsible for making income reports so popular) and that gave me the motivation to focus my energy on taking better pictures, creating unique content and reading about SEO. Thanks to a very supportive husband, I was able to quit school and my full time job in retail to fully focus on my blog. What can I say – I fell deeply, madly in love with food blogging!
Since then, Pickled Plum and myself have grown tremendously. I've published over 550 recipes and finally feel confident that I can earn a comfortable living from it.
Why I am sharing this with you
The reason why I decided to publish monthly income reports is to show you that it can be done. Some blogs find success right out of the gate while others take longer to develop and find their voice. Mine was in the latter category. It took patience, perseverance and lots of coffee to get here. It wasn't an easy climb but it was worth every drop of sweat! Whether you already are a blogger or are thinking of getting started, I hope I can help you navigate through all the steps and hurdles of blogging a little more easily. And just like the bigger blogs that were there to motivate me when I needed a lift (just looking at their earnings was inspiring enough!), I hope I can do the same for you!
---
BLOG INCOME REPORT FOR MAY 2016
*Please note some of the links below are affiliate links. 
Income: $3,783.04
Expenses: $121.40
MAY 2016 NET PROFIT: $3,661.64
TRAFFIC RECAP
May was a much better month for traffic and you can see why by looking at the sudden spike of traffic in the graph below. On May 12th, one of our posts went viral on Yahoo! and in just one day, the blog received almost 45,000 page views – making it our best day to date! Now I'm sure you would like to know how this happened and I wish I had a better answer than I don't know. It's not like we promoted the page or did a massive social share. This happened on their end; Yahoo! decided to put one of our roundups on their front page and because of that, it got a lot of traction. The traffic remained higher than normal for about three days and then returned to normal. May was a month of restructuring and working on new projects. My husband Ben is getting more and more involved with the blog which helps in all aspects of the job. Being a blogger means having to wear many different hats and working an insane amount of hours per week! I'm extremely grateful to have him as a partner since we are now able to split the work load and spend more time focusing on things that need improvement.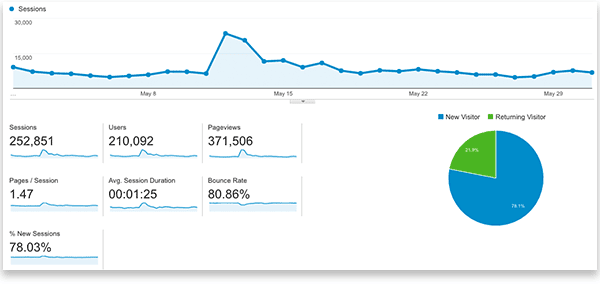 TOP TRAFFIC SOURCES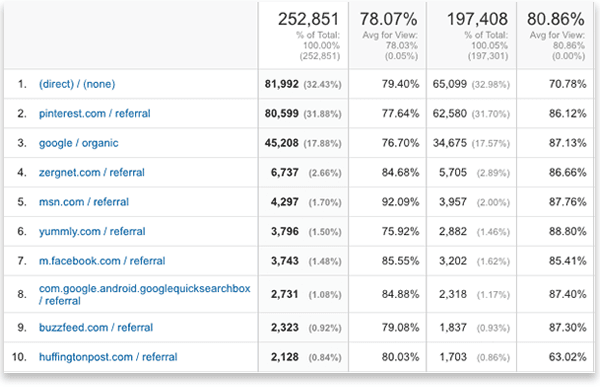 ---
Switching from Mailchimp to Active Campaign
This was a big change for Pickled Plum since we had been using Mailchimp for two years. Making the change was a little scary but necessary since our list had gained a considerable amount of new followers (over a thousand new members) because of the temporary traffic spike we received from Yahoo! The main reason for the change in email marketing software was the need for more data and a lower monthly cost. Mailchimp is a wonderful tool to use if you are getting started – it's completely free to use until you reach 2,000 members! It's also very user friendly and the set up couldn't be any easier. I was very happy with them but was looking for something with more tools and in depth data. Plus, Active Campaign offers a 15% discount for their annual plan. This was a big plus for me since the deal makes it significantly cheaper to use them as opposed to Mailchimp – a difference of almost $150 per year. The set up is more complicated and it took me a few days to get comfortable with it but once I did, I fell in love with the software. I'm able to pretty much do anything I want with Active Campaign. I can be more creative and offer more to my readers in the newsletters I create. I'm loving the interface as well – I find it much smoother to use than Mailchimp.
The nuts and bolts of a blog
This month I wanted to talk about the ABCs of creating a blog since it's so critical to a blog's success. Aside from writing unique and exceptional content, having a strong and solid base for a blog is very important if you want to turn this into a career. When someone wants to share with the world recipes, tips or projects, the initial reaction is to jump right in and put content out there as soon as possible. The excitement is palpable in the air and because of that, patience goes out the window. That was me! I wanted everything done in a day because I was too eager to get going. I signed up with Blogger, took pictures of a fish stew recipe I loved, wrote a few words and hit publish. And I took even less time coming up with a domain name – I think it was called Recreating Leftovers. Oh boy. Let's just say that project didn't last long as I hadn't thought it through. I went about it randomly instead of rationally, which is not the way you want to go if you want to make a living doing this!
If blogging is something you want to do for fun, then I say do just that: have fun and don't worry about a thing! But if you have visions of yourself working from a beach somewhere in Southeast Asia (like I did), then heed my advice and start by doing these five things well. I would also recommend reading How To Start Your Own Food Blog where I show you how to install WordPress. Taking your time in the beginning will save you time in the future!
1. Start cheap but don't start completely free
The reason I say this is because you don't want to put yourself in a situation where you join a free blogging platform that offers limited features and plugins. Trust me when I say that you will be making lots and lots of changes to your blog! The more room you give it to grow, the better. It's going to be exciting and confusing at first but watching your own blog grow and take shape is an amazing thing! You also want to stay away from getting a free domain name that comes with an extension such as yourdomainname.blogspot.com. This will hurt your branding down the line and make your blog look less professional.
So how much should you spend?
Not much. Because you are getting started and don't know if this is something you can see yourself doing for a long time, it doesn't make sense to spend more than you need to. The good news is there are plenty of options to start cheap these days – and good ones too! One company you might have seen popping up on many blogs is Bluehost. That's because most bloggers started out with Bluehost, including myself for the first 3 years of Pickled Plum, and can vouch for their reliable services. Their one-click automatic WordPress installation makes it incredibly easy to get started, plus, they have a ton of step by step video tutorials on what you need to do to get a blog up and running. Here is an example:
This is a nifty widget from Bluehost that lets you check if the domain you would like to register is available. Give it a try!
Their basic plan is only $3.95 a month, plus you get a free domain name that ends with .com (good for branding). What's also good about Bluehost is they will refund you for the months you haven't used should you decide to buy their annual plan and cancel halfway through.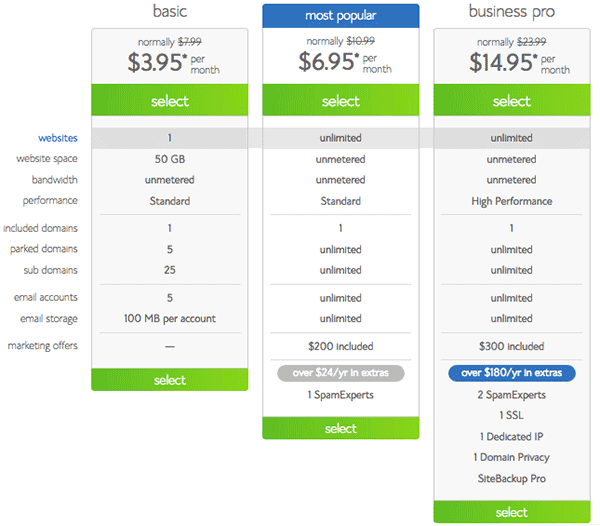 2. Optimize your images
You can get a significant amount of traffic from Google Images if you optimize your pictures properly. That's because Google cannot read images as good as it can read writing. It may recognize the shape of a pear but if you are posting a picture of chicken cutlets with arugula and cashew nuts on the side and name it 25542.jpeg, chances are it won't appear under Google images.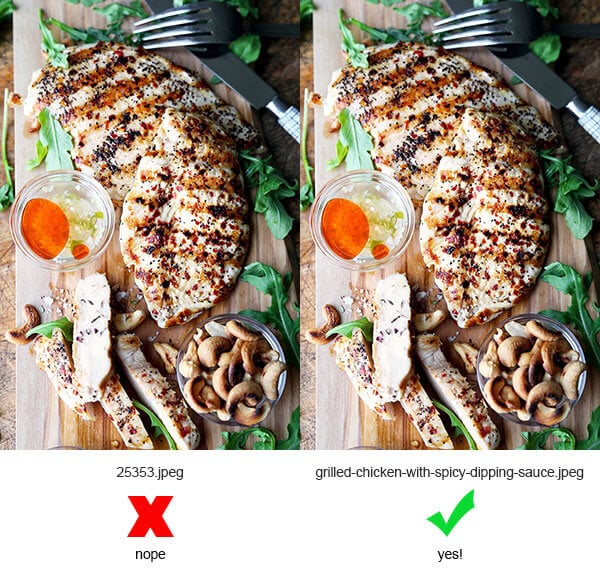 The first thing to do is to rename the title of your pictures when you save them. The second thing is to add additional information to the alt tag – here you get to describe a bit further what your image is about. So let's take my grilled chicken recipe above as an example: the title is called grilled chicken with spicy dipping sauce. I would then describe the recipe a little more in the alt tag, like so; grilled chicken cutlets recipe with hot and sweet sauce with arugula and cashew nuts. Google now knows exactly what my picture is about! I've given Google plenty of information to work with so that it can pull my picture up whenever someone looks for a grilled chicken recipe. Make it a habit to save your pictures with a clear description of what the image is. By doing so you are not only doing Google a favor but your blog as well.
3. Make your blog mobile responsive
This is such an important feature your blog should have! And one that will only become more necessary as time passes. More people rely on their cell phones nowadays to access the internet than they do using a desktop. Look at Pickled Plum's number one source of traffic in the screenshot below – mobile accounts for 49.5% of our traffic! Now imagine if Pickled Plum had a rigid framework that didn't make it easy for people to search for recipes. The blog would be in danger of losing half of its traffic – disastrous!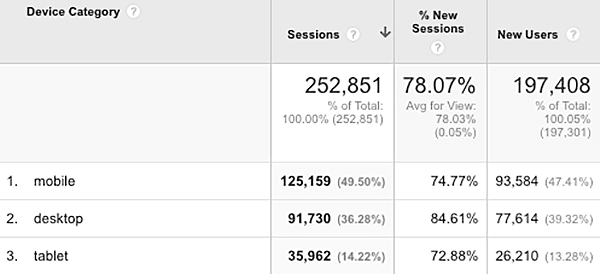 A quick way to find out if your blog or website is mobile responsive is to do a quick mobile-friendly test. If you are not using a mobile friendly design, try one of these plugins:
4. Learn about basic SEO practices (search engine optimization)
Again, if you are blogging for fun, you can skip this step (you can actually skip all the steps!) But if you want to make a career out of this, familiarize yourself with basic SEO practices early on. Knowing about how search engines read and rank content is essential to a blog's success. Blogging as a career is part creative, part marketing and part analytics. The analytics part is a numbers game with one big riddle everyone is constantly trying to solve;  how to rank higher in Google. One book that truly helped me get started is The Art Of SEO. It's a thick yet comprehensive 700-page bible that I think every serious blogger should get. Don't worry, you don't have to read the entire book to learn the basics! Plus, it's written in a way that makes SEO easy to understand and kind of fun! 
5. Submit your blog to Google and Bing (Yahoo!)
This sounds really basic but you would be surprised to know how few people do it! The first thing you should do after you buy a domain name is to submit it to Google and Yahoo! You don't need to wait until you have published content to do this since it will take the search engines a couple of months to index your blog. That gives you plenty of time to create and shoot recipes or other content you wish to share!
Submit your blog to Google here.
Submit you blog to Bing here.
---
And that's it for May!
If you have any questions or tips to share, please leave them in the comments section. I'd love to hear from you!
Pickled Plum is a participant in the Amazon Services LLC Associates Program, an affiliate advertising program designed to provide a means for sites to earn advertising fees by advertising and linking to amazon.com.