April 2016 Blogging Income Report
*This post may contain affiliate links. Read my disclaimer here.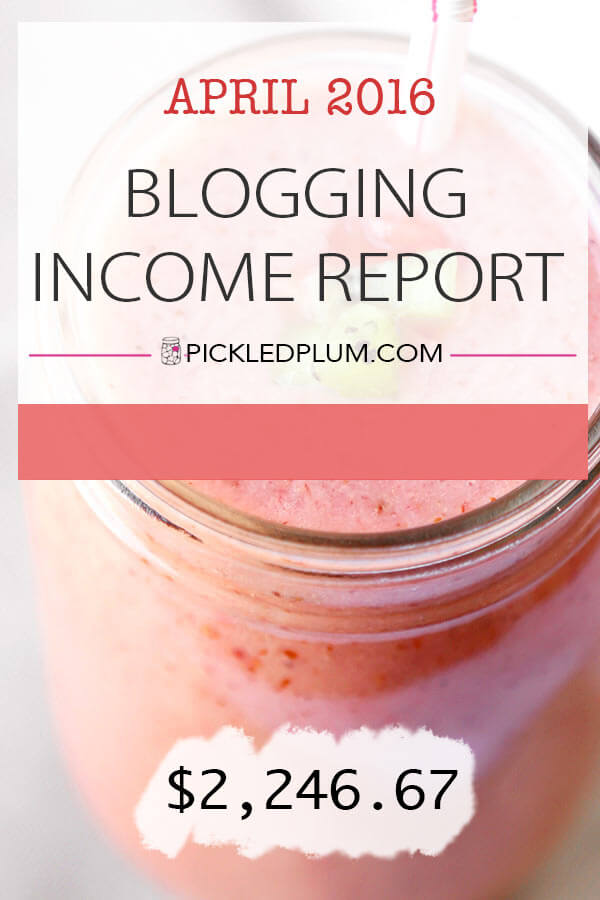 Hi and welcome to my very first income report!
I started Pickled Plum five years ago as a way to collect and share recipes I created on a whim. This blogging thing wasn't something I envisioned doing long term: I was studying at FIT to become an image consultant and worked full time in retail. During that year I only managed to post one or two recipes per month. My schedule was packed and to be honest, I was taken aback by the amount of time and energy it took to shoot, edit and publish a recipe.
The second year was even worse: I barely gave the blog any attention, leaving it bare and neglected. I was struggling at my job and slowly realizing that fashion may not be my calling. The third year is when I decided to take this blogging thing a little more seriously. I saw that people were making money, thanks to blogs like Pinch Of Yum (who is responsible for making income reports so popular) and that gave me the motivation to focus my energy on taking better pictures, creating unique content and reading about SEO. Thanks to a very supportive husband, I was able to quit school and my full time job in retail to fully focus on my blog. What can I say – I fell deeply, madly in love with food blogging!
Since then, Pickled Plum and myself have grown tremendously. I've published over 550 recipes and finally feel confident that I can earn a comfortable living from it.
Why I am sharing this with you
The reason why I decided to publish monthly income reports is to show you that it can be done. Some blogs find success right out of the gate while others take longer to develop and find their voice. Mine was in the latter category. It took patience, perseverance and lots of coffee to get here. It wasn't an easy climb but it was worth every drop of sweat! Whether you already are a blogger or are thinking of getting started, I hope I can help you navigate through all the steps and hurdles of blogging a little more easily. And just like the bigger blogs that were there to motivate me when I needed a lift (just looking at their earnings was inspiring enough!), I hope I can do the same for you!
---
BLOG INCOME REPORT FOR APRIL 2016
*Please note some of the links below are affiliate links. 
Income: $2,246.67
Expenses: $113.95
April 2016 Net Profit: $2,132.72
Traffic Recap
Last April wasn't a typical work month as I was in Japan for half of it visiting family and friends. Work was a challenge as I didn't have consistent internet access and quite frankly, wanted to stay away from the computer as much as possible. I left for Japan around the time Pinterest changed their algorithm – something to do with group boards – and that resulted in a major dip in traffic. I lost about 21% of my traffic which was pretty hurtful – ouch! But to look on the bright side, I'm glad it happened when it did. Had I not been traveling, I probably would have panicked with fear. Instead, I told myself I wasn't going to let this situation affect my long awaited vacation. Thankfully, traffic seems to be growing again which is a big relief! I don't expect to get back up to 240,000 this coming month but remain optimistic for June.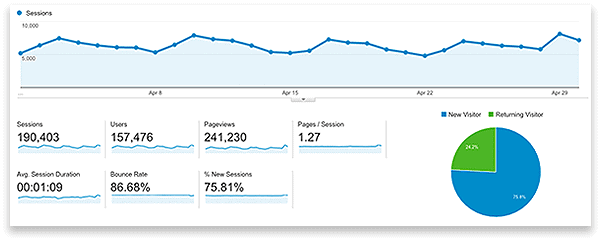 Top Traffic Sources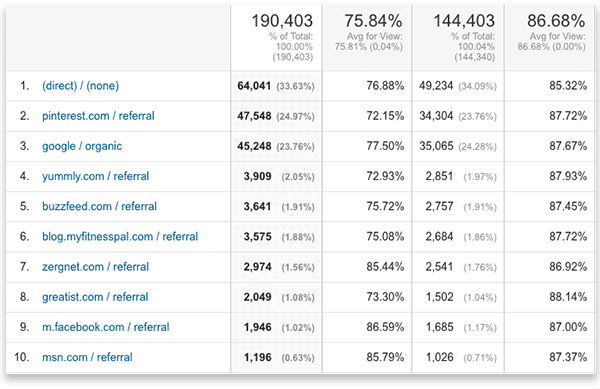 ---
Not enough time to do everything
This is a problem I encounter all the time. There is so much to do, so many little tasks to accomplish that blogging can get overwhelming pretty quickly. If you are starting a blog, your head is probably spinning from having to keep track of everything you will have to learn and create. My advice is no to panic. You will get it all done but first you will need to get organized! This, along with patience and focus, is crucial to a blog's success. Here is how I create a to do list for the week ahead so I can maximize my time and accomplish as much as possible.
Prioritize what needs to be done vs what can wait.
Look at my notebook of recipes ideas (I have a book where I keep note of everything that sounds good that I would like to eventually cook and shoot) and pick 3-5 to shoot. Create those recipes and make a list of ingredients to buy (this can take up to half a day).
Shoot all those 3-5 recipes in one day. It may take two days if the recipes are more complicated.
Edit all the pictures the following day.
Since I am mentally stronger in the morning, I plan for all of my writing to be done before lunch time (this is spread over a few days).
All the smaller, quicker tasks such as creating long pins for Pinterest, adding a nutritional label and adding the recipes to the posts are done on the same day.
Make time to back up my social media channels (using Buffer and Tailwind).
Allocate a few hours to brainstorm or work on side projects.
I use Google Keep to create weekly and daily to do lists. I like that I can add a check box next to each task I can later tick as accomplished. You can find Google Keep in your Gmail account under the apps section. This means you can have access to all your memos and lists from anywhere around the world.
Do you get everything done?
No but enough that I can feel relaxed and satisfied.
As I said, there is so much to do and so many projects I want to get off the ground that I would need to be awake 24 hours a day to accomplish everything! That's why prioritizing is so important; it makes me see what I need to get done for the blog in order to keep it running smoothly. This means I must produce 10-12 posts a month no matter what happens outside of the blogosphere. Once that list is crossed off, I can put all of my energy and focus on other projects.
---
Google Cookbook Calendar
If you feel a little stuck creatively when thinking of what to cook next for your blog, then you are going to love Google Cookbook Calendar. It's basically a chart showing you the top recipe trends throughout the year. This is a great way to help you create a list of recipes that coincide with what people are looking for during a specific month or season. Posting a hearty stew recipe in July? Probably not such a good idea. Posting a chicken wing recipe around the Super Bowl? Now you're thinking!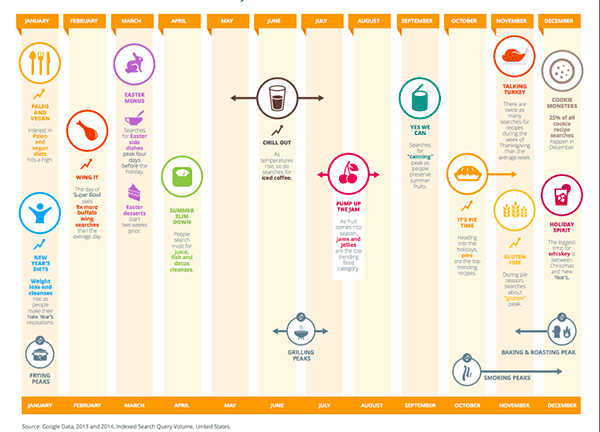 ---
Sponsored Posts
Finally, to close this first income report post I wanted to write a little blurb about sponsored posts and how they can be a great way to earn money from your blog.
There are several influencer marketing agencies such as Clever Girls Collective, Massive Sway, Izea and Tap Influence that connect bloggers with companies. All you need to do is sign up with them, fill out an online form with your information along with how many followers you have. Some sites will contact you directly with offers while others, like Clever Girls Collective, have a campaign board you can scroll through and apply for as many programs as you wish.
Another way to get sponsored posts is to contact companies directly. I have found a moderate amount of success doing this. You can contact them directly through their website or email them on their Facebook page. The Facebook method has worked really well for me. Finding sponsors on your own tends to be more lucrative because you can set your own fee and they might also hire you to do more than just one post.
And that's it for April!
If you have any questions or tips to share, please leave them in the comments section. I'd love to hear from you!
Pickled Plum is a participant in the Amazon Services LLC Associates Program, an affiliate advertising program designed to provide a means for sites to earn advertising fees by advertising and linking to amazon.com.