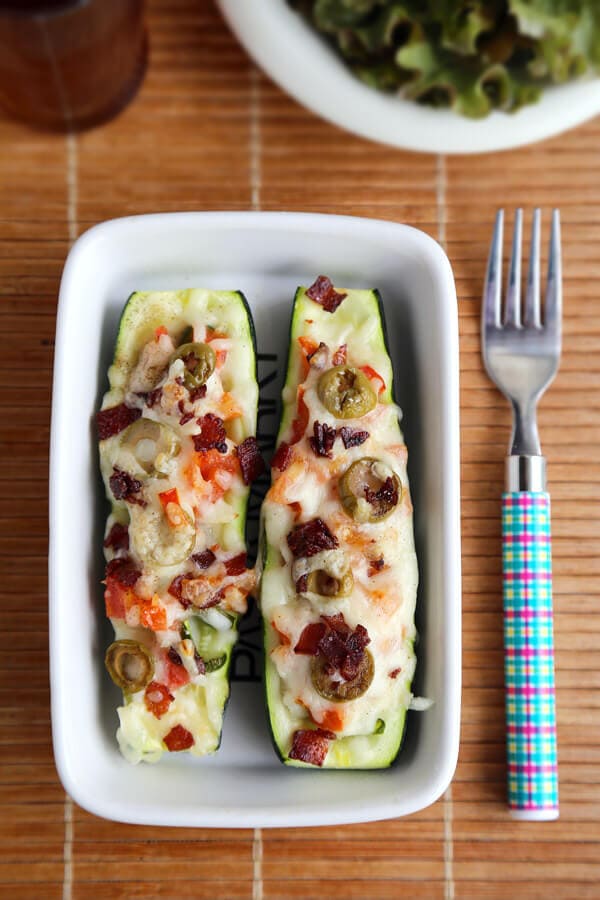 Baked and Stuffed Zucchini Boats
When I offer to cook something at my mother's house in Japan she always requests something American or French. Without hesitating I say "you got it mom" and then the same thing always seems to happen; I go to the supermarket and realize how hard this simple request is going to be to achieve. 
First of all there is the no oven issue. Most households in Japan only have gas burners and toaster ovens. This means I can forget about making a pot roast and the chances of a quiche's texture turning out fluffy and creamy are tentative at best, a risk I'm not willing to take. The second problem I quickly run into is finding spices and fresh herbs. Japanese cuisine is the polar opposite of French cuisine in the sense that very few herbs are used during the cooking process. Here, fish broth (dashi), dried goods (like shiitake mushrooms) and seaweed products prevail when it comes to flavor enhancement. The vegetables are also different than the ones sold in the States.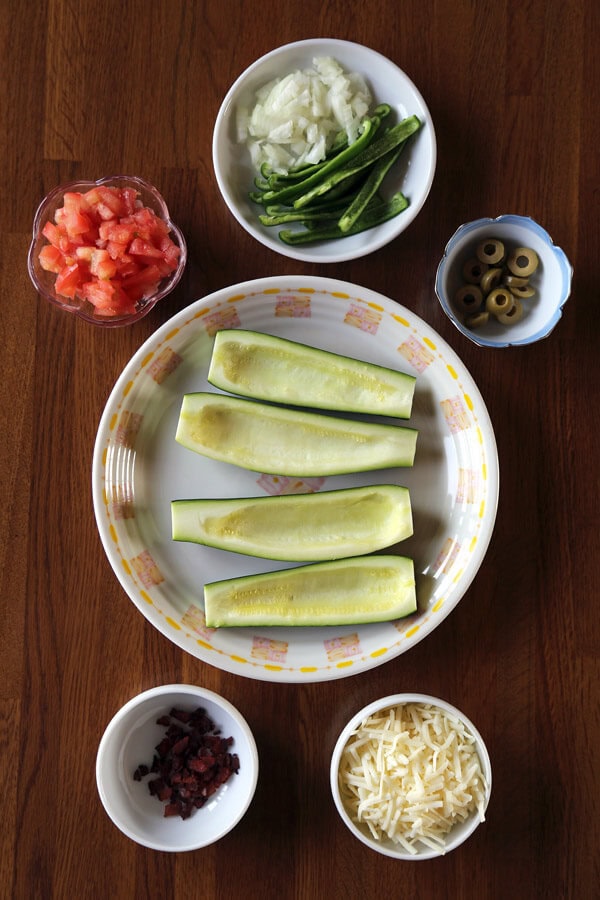 Walking down the aisles I tell myself to simplify, simplify, find an easy no frills dish to make with classic American flavors. Then I see bacon, cheese, zucchini and boom! Baked and stuffed zucchini boats like the ones I see on Pinterest all the time! My mother loves vegetables so I'm going to make them meat-free aside from the bacon topping.  Stuffed zucchini boats will also fit into my mother's teeny toaster oven and have that undeniable pizza-like flavor she loves so much.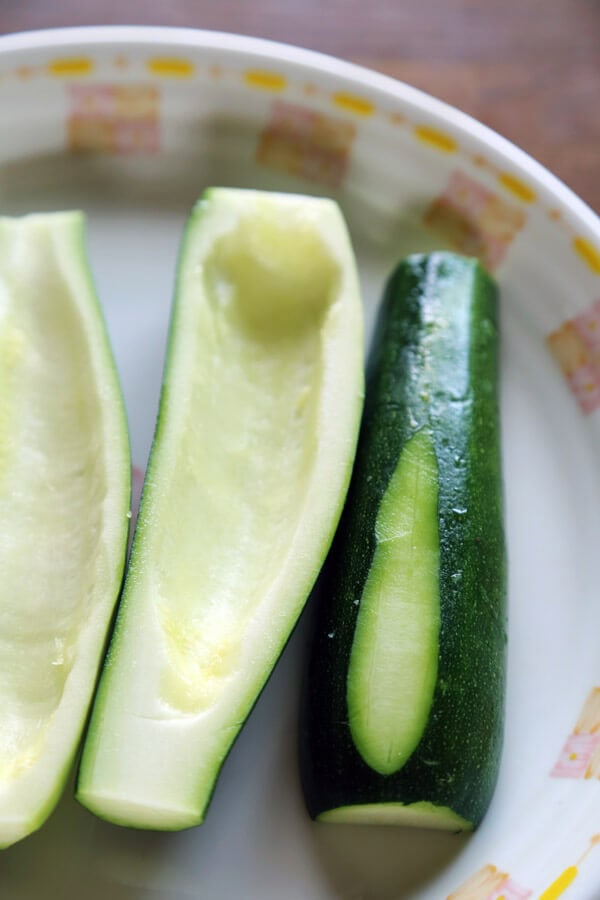 And I wasn't wrong; she devoured them along with some ham, cabbage and cheese tofu pockets I served that evening. Sometimes, a simple recipe like baked and stuffed zucchini boats is all it takes to bring a smile at the dinner table!
Baked and stuffed zucchinis also pair well with a cold cucumber chicken salad, black bean burger patties, or a cool summer gazpacho soup.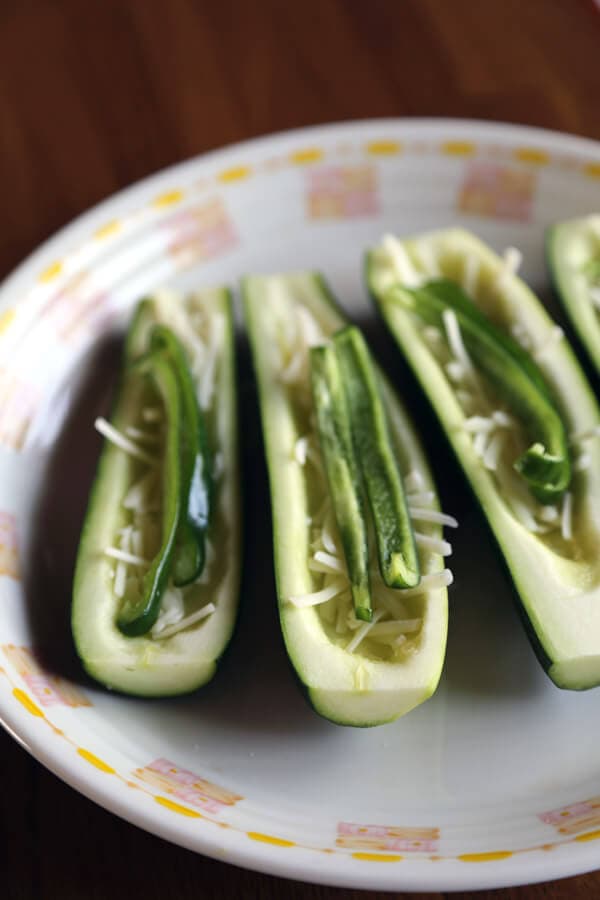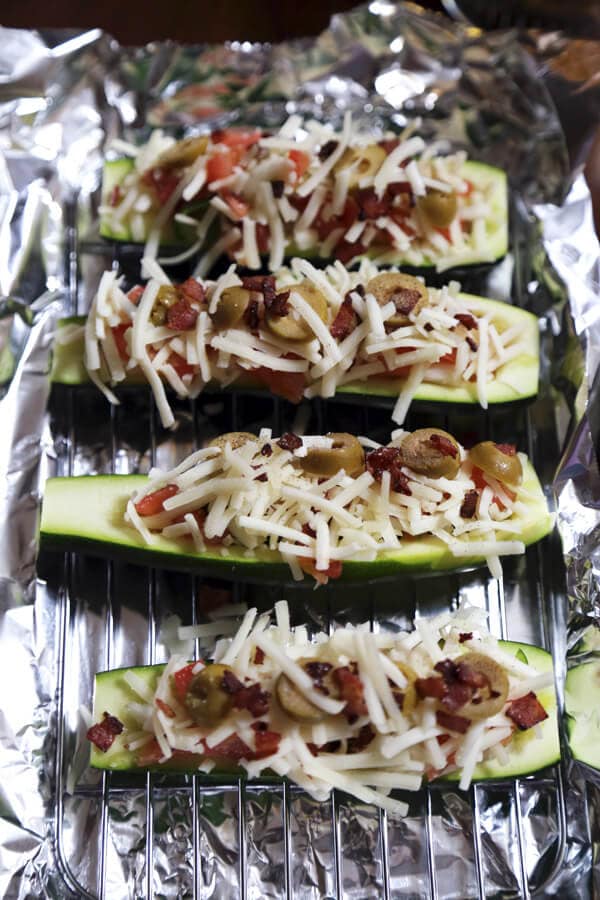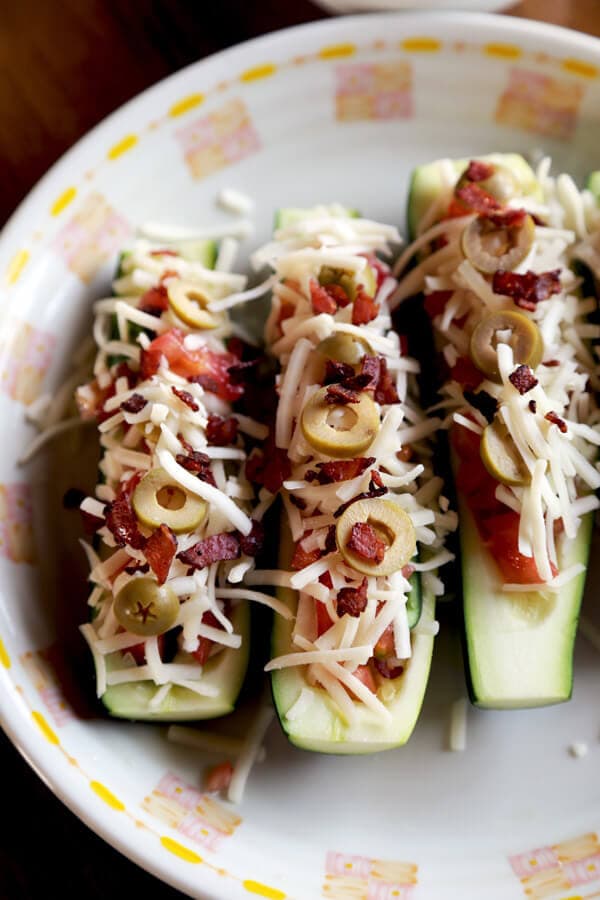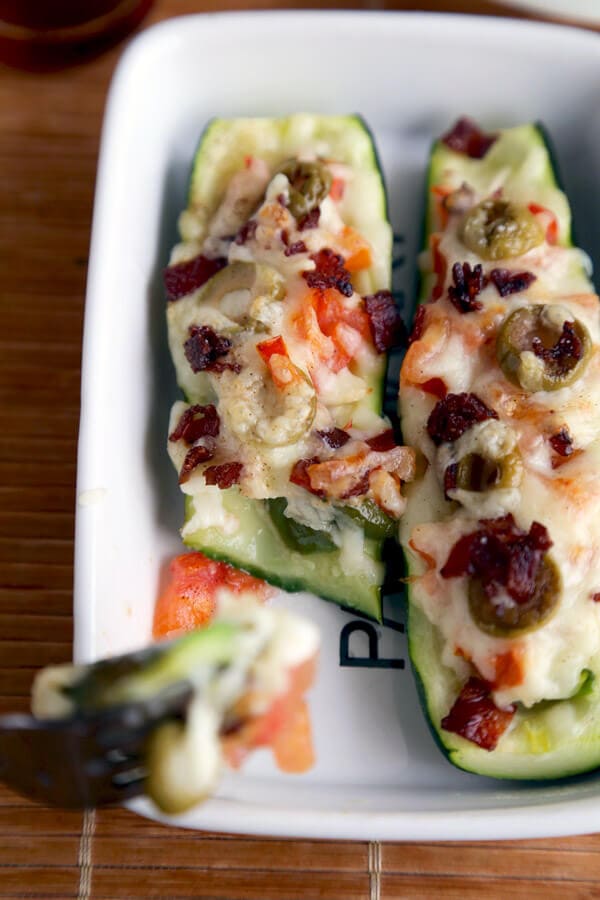 Print
Baked and Stuffed Zucchini Boats
Prep Time:

10 minutes

Cook Time:

15 minutes

Total Time:

25 minutes

Yield:

2

people

1

x
Category:

Appetizer
2

zucchinis (ends trimmed and sliced half, lengthwise)

1

small tomato (cored, seeded and finely diced)

1/4

green bell pepper (finely sliced lengthwise)

2 tablespoons

onions (finely chopped)

1

slice bacon (finely chopped)

4

green or black olives (pitted and thinly sliced)

1 cup

mild cheddar or parmesan cheese (shredded)
Instructions
Preheat oven to 350Fº.
Using a small spoon, scoop the seeds out of each zucchini piece, creating a canoe like shape. Cut a thin strip on the back so that each piece can lie flat on a cooking tray.
Put zucchini boats on a cooking tray.
Add a little cheese at the bottom of each piece and evenly distribute bell pepper, tomatoes and onions.
Top with remaining cheese and sprinkle with bacon and olives slices.
Season with salt and pepper.
Bake in the oven for about 15 minutes, until cheese is melted and zucchini is soft while still yielding a slight crunch.
Turn oven to broil and broil until cheese is golden brown and bubbly (3-4 minutes). Serve warm.
Recipe Card powered by