Anolon Vesta Cast Iron 5-quart Covered Braiser Giveaway
As a little kid, I remember walking in to the kitchen and wondering (out loud) why my mother was drying the pan with a paper towel and vegetable shortening. She raised her eyebrows, smiled and said she was 'seasoning' the cast iron. She then proceeded to give me the ins and outs of taking care of cast iron and about all of the benefits of a having a sturdy, even heating pan. For my seven-year-old brain, it was a bit much. All I knew is that I loved her boeuf bourguignon  – and, if a little work on the braising pan was needed beforehand, then it was well worth it. To this day, I still follow her boeuf bourguignon recipe to the letter – but I buy my cast iron pre-seasoned.
I'm super excited to be teaming up with my friends at Anolon who are offering my readers (hey, that's you!) the chance to win an amazing round, covered cast-iron braiser that will look beautiful on your stovetop and heat your slow cooked soulful stews to perfection. And since we live in the modern age… No messy cast-iron-seasoning required!
Two (2) winners will receive one (1) Anolon Vesta Cast Iron 5-quart Covered Braiser with a suggested retail value of $130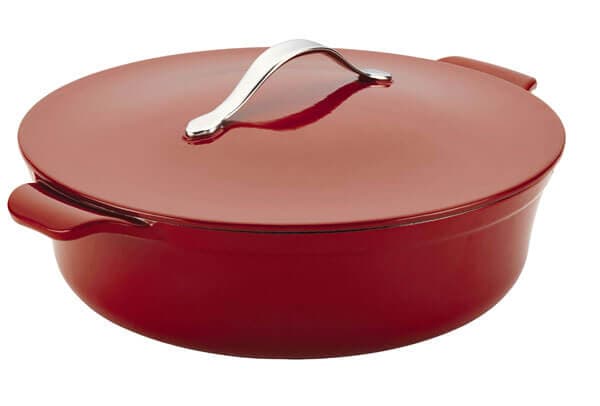 Meticulously crafted for discerning cooks, Anolon Vesta Cast Iron features solid cast iron construction with an elegant paprika-red glossy enamel porcelain exterior. The stain-resistant black matte interior provides beautiful searing, browning and cooking capabilities – with no cast-iron-seasoning required. The cookware's handles are sturdily designed in enamel cast iron, and side handles are styled with a wide flare to make them easier to hold and beautiful to look at. The stainless steel lid handle is generously proportioned to make lifting easier. Moisture re-circulating nubs, located on the underside of the porcelain enamel lid, redistribute flavorful cooking liquid back into the pot for continuous self-basting. This Anolon braiser is compatible with all ranges, including induction heat cooktops, is oven-safe to 500° F and includes a lifetime limited warranty.
Be sure to check the Terms and Conditions for this giveaway in the Rafflecopter widget below.
Disclosure: We did not receive any products or other forms of compensation from Anolon for this post.
Please note: Anolon will be shipping the winners these giveaway items directly.