On the subject of coffee, our friends were way ahead of us. When we chose the vacation rental property on the Puget Sound, my focus was (obviously) on the kitchen amenities first and foremost. Grill: check. Oven: check. Dishwasher: affirmative. The five of us had been planning epic meals since we all decided to take a little R&R together out West. I knew there was a coffee maker in the kitchen – and had plans of sampling the best Seattle had to offer in the way of roasted beans. When Greg and Julie whipped out the French press they had brought in their luggage from the Midwest for our morning coffee samplings, I was impressed to say the least. Traveling with a coffee maker takes dedication. And we put it to use! Our meals during that bucolic week on the water's edge were indeed epic – and our morning pour-over style coffee was strong and delicious.
I'm incredibly excited to be teaming up with my friends at AeroPress who are offering my readers (hey, that's you!) the chance to win a coffee maker that delivers the best the bean has to offer (minus the bottom-of-the-cup-sludge) – and it just may make a cameo on your next vacation with friends!
One (1) winner will receive one (1) AeroPress Coffee Maker with a suggested retail value of $35.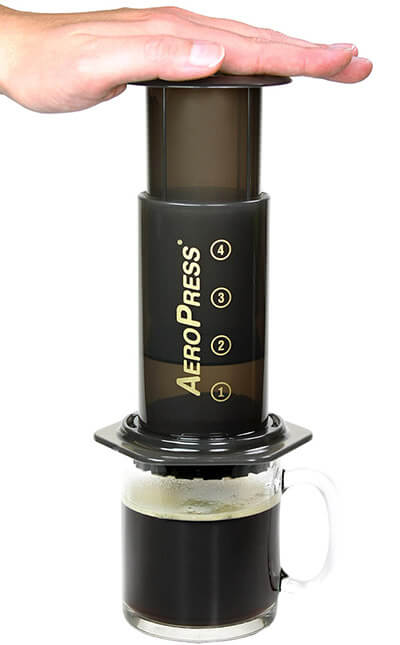 The AeroPress coffee maker is a new kind of coffee press that brews coffee under ideal conditions: proper temperature, total immersion, and rapid filtering – resulting in delicious coffee, without bitterness and with very low acidity. Commonly used in home-kitchens, it is also lightweight, durable and compact enough to take camping or backpacking. The AeroPress coffee maker makes 1 to 3 cups per pressing in about one minute – and brews American style coffee and espresso. The microfilter results in no grit in your cup, unlike a French press, and clean-up takes just seconds. The AeroPress is Bisphenol-A (BPA) and phthalate free, and is made in the USA. Nice!
Be sure to check the Terms and Conditions for this giveaway in the Rafflecopter widget below.
Disclosure: We did not receive any products or other forms of compensation from AeroPress for this post.
Please note: AeroPress will be shipping the winner this giveaway item directly.